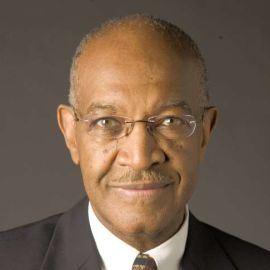 Rev. James Forbes
A spiritual leader with charismatic style and radically progressive opinion, Known as the preacher's preacher
The Rev. Dr. James Alexander Forbes, Jr., is National Minister of the Drum Major Institute, Senior Minister Emeritus of The Riverside Church, The Harry Emerson Fosdick Distinguished Professor at Union Theological Seminary, and President of the Healing of the Nations Ministries (all of these institutions of New York City). Additionally, Dr. Forbes is a highly acclaimed author, scholar and nationally sought-after speaker, affectionately referred to in national and international religious circles as the preacher's preacher because of his extensive preaching career and his charismatic style.  Newsweek magazine once recognized Forbes as one of the 12 "most effective preachers" in the English-speaking world.  As a passionate educator, administrator, community and human rights activist and interfaith leader, Dr. Forbes was twice designated as one of America's greatest Black preachers by Ebony magazine. Dr. Forbes is a featured TEDex speaker and also a frequent guest & contributor to top national media outlets including Huffington Post, MSNBC and others.
Most recently, as Senior Minister of the Riverside Churchan interdenominational, interracial, and international church built by John D. Rockefeller, Jr. in 1927, Dr. Forbes led a 2,400 member church. Affiliated with the American Baptist Churches and the United Church of Christ. Forbes, was installed as the fifth senior minister of Riverside on June 1, 1989, and retired on June 1, 2007. He was the first African-American to serve as minister of this multicultural congregation. Dr. Forbes is an ordained minister in the American Baptist Churches.
Before being called to Riverside's pulpit, Dr. Forbes served from 1976-1985 as the Brown and Sockman Associate Professor of Preaching at Union Theological Seminary in New York City.  From 1985-1989, he was Union's first Joe R. Engle Professor of Preaching.  Union named him the first Harry Emerson Fosdick Adjunct Professor of Preaching in 1989, when he accepted the pastorate at Riverside.  Dr. Forbes has served on the Core Teaching Staff at Auburn Theological Seminary in New York. 
Dr. Forbes has earned three degrees and has been awarded 14 honorary degrees.  He earned a doctor of ministry degree from Colgate-Rochester Divinity School in Rochester, NY; a master of divinity degree from Union Theological Seminary in New York City, NY; and a bachelor of science in chemistry from Howard University in Washington, D.C.  He earned his clinical pastoral education certificate from the Medical College of Virginia in Richmond, VA. 
His Alma Mater, Union Theology Seminary presented him its Unitas Distinguished Alumnus Award and Teacher's College of Columbia University award him its Distinguished Service Medal in 2003. Howard University awarded him their Distinguished Service Award in Ministry. His honorary doctorates included degrees from the following colleges and universities: Princeton, DePauw, Colgate, Fairleigh Dickenson, Lehigh and the University of Richmond.
From 1992 to 2007, Dr. Forbes was co-chair of A Partnership of Faith, an interfaith organization of clergy among New York's Protestant, Catholic, Jewish and Muslim communities.  He is on the board of Manhattanville College, the Interfaith Alliance, Children's Defense Fund, Mailman School of Public Health of Columbia University, and the United Way.  He is a past president of The Martin Luther King Fellows. Dr. Forbes is also a member of Mayor DiBlasio's Clergy Advisory Council in New York City.
Additionally, two of Dr. Forbes' songs have been published in the Silver Burdett Songbooks for schools: "For Children Safe and Strong" and "Our Families Together."  Dr. Forbes has performed the narration for several large musical productions, including Mendelssohn's "Elijah" with the Riverside choir.
Related Speakers View all
---
Shane Claiborne

Founding Partner of The Simple Way, Author of " The ...

Brian McLaren

Christian Thinker, Author & Activist

Lauren Winner

Duke Divinity School Associate Professor of Christia...

Lisa Whelchel

Author, Founder of Momtime Ministries & Actress Know...

T.C. Stallings

Author, Actor and Student Sports Ministry Director

Pam Tebow

Mother of Tim Tebow, Faith-Based & Pro-Life Speaker

Ketric Newell

Crosspoint.tv Youth Pastor & Speaker

Tullian Tchividjian

Grandson of Billy Graham & Bestselling Author of "Je...

David Nasser

Pastor, Speaker & Author; SVP for Spiritual Developm...

Os Guinness

Author & Social Critic

David A.R. White

Founder of Pure Flix, Christian Actor & Producer Kno...

Tammy Whitehurst

Christian Motivational Speaker; Founder, Joy for the...

Josh McDowell

Christian Apologist, Evangelist & Best-Selling Author

William Paul Young

Christian Author of "The Shack"

Eric Bryant

Author & Church Leader

Matt Chandler

Author & Lead Pastor at The Village Church

Clayton King

Pastor, Founder & President of Clayton King Ministries

Levi Lusko

Bestselling Author & Pastor of Fresh Life Church

Francis Chan

Pastor & Best-Selling Author; Best Known for "Crazy ...

Steve Arterburn

Founder & Chairman of New Life Ministries, Host of "...
More like Rev.