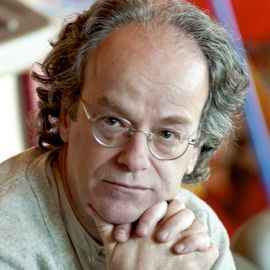 Rev. Kevin D. Annett
Nobel Peace Prize Nominee, Global Human Rights Campaigner, Whistle Blower & Author
Kevin Annett is a renowned global human rights campaigner, author and whistle blower who has led the movement to expose and prosecute child murder by church and state in Canada and Europe. Kevin is the co-founder of The International Tribunal of Crimes of Church and State, and has been nominated three times for the Nobel Peace Prize.
In the 1980s, Annett graduated from the University of British Columbia with a Bachelor's degree in anthropology and a Master's degree in political science. In 1990, he graduated from the Vancouver School of Theology with a Master of Divinity, and was subsequently ordained by British Columbia Conference of the United Church of Canada. From 1990-1991 he served in churches in rural Manitoba, and from 1991-1992 served at the Fred Victor Mission in Toronto, an outreach street-ministry of The United Church of Canada. He was appointed minister to St. Andrew's United Church in Port Alberni, British Columbia in 1992.
From early in his ministry Annett was puzzled by the total absence of indigenous people from his church. He determined both to discover why this should be and to be as pro-active in his contacts with his indigenous parishioners. Unknown to him at the time, he was set on a path that would change his life forever when he uncovered the crimes against indigenous people in church and school. Annett has written three books on the subject of residential school abuse in Canada. The first, "Hidden from History: The Canadian Holocaust," was published in two editions: 2001 and 2005. A substantially updated, revised 3rd edition in September 2011 was retitled "Hidden No Longer." The second, "Love and Death in the Valley," was published in 2002.
In 2006, Kevin produced a documentary on this topic: "Unrepentant: Kevin Annett and Canada's Genocide" which won the 2006 award for 'Best Director' at the New York International Independent Film & Video Festival. It provided the title for his third book "Unrepentant: Disrobing the Emperor" published in January 2011. "Unrepentant" documents Canada's dirty secret – the planned genocide of aboriginal people in church-run Indian Residential Schools – and the clergyman's efforts to document and make public these crimes. First-hand testimonies from residential school survivors are interwoven with Annett's own story of how he faced firing, de-frocking, and the loss of his family, reputation and livelihood as a result of his efforts to help survivors and bring out the truth of the residential schools.
In 2010, Annett founded The International Tribunal into Crimes of Church and State. This is a network of activists who have given up on the established legal systems of nation states and constituted their own. After a "Tribunal of Conscience" in Brussels in the fall of 2012, they reviewed the available evidence before indicting all 30 defendants on February 25, 2013 for perpetrating or concealing the Canadian genocide. These defendants included then Joseph Ratzinger (formerly Pope Benedict XVI), Tarcisio Bertone, former Cardinal, Elizabeth Windsor "Queen of England" and Canadian Prime Minister Stephen Harper.
Speech Topics
---
Jesus Christ: The Enemy of Family, Property and Religion
Why the roots of genocide today lie in the subversion of the message of the itinerant radical, Yeshua ben Yusuf - "Jesus of Nazareth"
Why Genocide is in our Blood
The origins of the genocidal impulse in "western civilization" is explored in some detail, from my experience in battling to expose and prosecute crimes against humanity in Canada. (See "Twenty Years on the Trail of the Assassins")
Unrelenting: Twenty Years on the Trail of the Assassins
My campaign to expose and prosecute genocide by Canada's mainline churches, and their sponsors in Rome and London - against impossible odds. And how it succeeded!
Life as a Banned Person: A Whistleblower's Tale
How and why I was targeted for blacklisting and ostracizing by Canadian church and state - how I survived and turned the tables on my tormenters - and being made stronger and better for it.
Books
---
Related Speakers View all
---
Kristan Hawkins

Pro-Life Activist, Author & Human Rights Advocate

Archbishop Desmond Tutu

Nobel Laureate & Human Rights Activist

Caitlyn Jenner

TV Personality, Olympic Gold Medalist & Iconic Trans...

Siddharth Kara

Foremost Expert on Modern Slavery, Human Rights Acti...

David Neiwert

Award-Winning Journalist, Domestic Terrorism Expert ...

Cary McClelland

Media, Tech and Intellectual Property Lawyer & Autho...

Theresa Flores

Human Trafficking Survivor, Best Selling Author, Vic...

Shyima Hall

Author of "Hidden Girl" & Human Trafficking Survivor

Amanda Lindhout

Executive Director of The Global Enrichment Foundati...

Sheryl WuDunn

Pulitzer Prize-Winning Journalist; Co-author of Half...

Marti MacGibbon

Humorous Inspirational Speaker, Certified Mental Hea...

Juan Williams

New York Times Best-Selling Author, Fox News Politic...

Immaculee Ilibagiza

Author, "Left to Tell: Discovering God Amidst the Rw...

Tavis Smiley

Broadcaster, Author, Publisher, Advocate, and Philan...

Bobby Seale

Political Activist & Co-Founder of the Black Panther...

Victoria Rowell

Classically Trained Dancer, Actress on "The Cosby Sh...

Judge Glenda Hatchett

Former Juvenile Court Judge & Star of "Judge Hatchet...

Myrlie Evers-Williams

Civil Rights Activist

Angela Davis

Feminist, Social Activist, Professor & Writer

Geoffrey Canada

Inner-City Youth & Education Advocate
More like Rev.