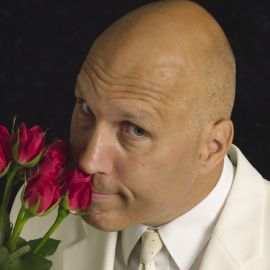 Rex Havens
Comedian, Keynote Speaker and Author
For over 20 years, Rex Havens has entertained and educated audiences around the world with his insightful observations about the hilarious miscommunications that populate our personal lives. He offers two entertainment-based shows, "Everything I Needed to Know, I Learned From My Wife" and "Bidding You a Fond 'I Do'", a theater-style show. After decades of working with companies of every size in literally every industry, Rex has also created the defining presentation on how to build and maintain successful interpersonal relationships at work as well, both manager-to-employee and colleague-to-colleague: One Big Happy Family!
Rex has been delighting comedy audiences for 20 years, in world-famous comedy clubs like The Improv, Catch-A-Rising Star, Funny Bones and Zanies, on television for Showtime, Comedy Central and Comic Relief, on radio with Bob & Tom and NPR, cruise ships worldwide, and corporate clients including GM, American Express, Texaco, 3M, Coca-Cola, IBM, Toshiba, Lowe's, Johnson & Johnson, Ameritech, Proctor & Gamble, State Farm, Quaker Oats, Verizon and the IRS ("Working for the IRS is the only sure way to get money from them."), and numerous non-profit and charitable organizations, such as St. Jude's and the Make-A-Wish Foundation.
A former college professor who made the unusual transition to the standup comedy stage in the '80's, Rex has always believed that laughter is the best defense against a confusing and challenging world. Rex's take on marriage and family has propelled him to performances in all 50 states and around the world, including London, Hong Kong, Amsterdam, Bermuda, Montreal, Barcelona, Copenhagen, Aruba, Rome and Cannes.
Videos
--- Speech Topics
---
One Big Happy Family (keynote)
Building Better Company Families One Laugh At a Time
Communication is truly the heart of everything. An effective leader is really nothing more than an effective communicator, one who can share the company vision in a way others can understand, relate to, and get excited about. The generational issues facing many of today's industries are only ever solved when members of those different generations get together and start talking effectively and respectfully to one another. These are critical skills for all businesses – but learning them doesn't have to be boring. With One Big Happy Family, Rex Havens offers a hysterical analysis of the ways we miscommunicate at work and what we should all do to maximize the possibilities of our professional relationships. Simply put, "One Big Happy Family" is the most entertaining communication and teambuilding seminar you will ever see. You'll laugh like never before and come away with ideas and strategies which will make all of your relationships – professional and personal – stronger and more successful than they've ever been.
Takeaways:
• The simple (translation: no-cost!) changes you can make today to improve your corporate culture and strengthen your team dynamic. • The 7 things all managers should say to improve employee engagement and productivity. • The 7 things all team members should say and internalize to resolve conflicts, or better still, avoid them before they begin. • Communication strategies for creating seamless and enjoyable ("Yes!") change management • Communication improvement techniques for an age-diverse workforce.
Everything I Needed To Know I Learned From My Wife! (Entertainment)
Just want to laugh? Then get ready to enjoy an hour of hilarity from a man who's shared the stage with Robin Williams, Billy Crystal, and Jerry Seinfeld. With Everything I Needed to Know I Learned from My Wife!, Rex Havens tackles the battles of the sexes with a fresh approach to this ageless subject, one that will appeal to anyone who's ever been married, thought about getting married, or known someone who thought about getting married. Rex's comedy routine is appropriate for all audiences (including nuns, who have hired him before), and it's dedicated to the notion that happiness lies not in victory, but in the glory and undeniable humor of the struggle. Yes, it's not the destination but the journey.
Related Speakers View all
---
Hypnotist The Incredible BORIS

Award-winning Motivational Hypnotist and Keynote Spe...

Eric Gnezda

Singer, Songwriter, Educator, Author, TV Producer & ...

Christine Cashen

Hall of Fame Motivational Speaker; Author of "The Go...

Barry Reitman

Fast-paced, fun-filled memory improvement.

Brad Montgomery

Humorist, Motivational Speaker, Publisher & Author

Mike Rayburn

Thought Leader, Artist & Entertainer

Amanda Gore

CEO of The Joy Project; Author & Psychologist; Emoti...

Brian D'Ambrosio

Brian D'Ambrosio and inspiring road trips throughout...

Heidi Heyns

Laugh..It's Just Good For You!

Liz Nead

Executive Business & Life Coach

Lisa Wessan

Creating a space for Grace...

Dr. Will Miller

Educator, Psychotherapist, Author & Humorist; Author...

Juliet Funt

Founder, Owner & CEO of WhiteSpace at Work

Stephen Sapato

the most famous unfamous speaker in America

Hutke Fields

Principal Chief of Uvcenv Cunv Uvsel at Natchez Nati...

Nathan Ellis

Motivational speaker for diverse employee groups and...

Michael McCain

Awakening Millions To Their Potential -Author, Coach...

Katie Schmatz

Ohh the Possibilities...

Dr. Kevin Fleming

NY Times Cited Expert & Neuro Guru

Preston Keith Fox

THE ANTI-MOTIVATIONAL-MOTIVATIONAL SPEAKER
More like Rex