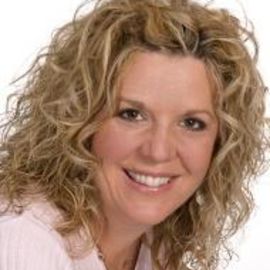 Rhonda Scharf
Not just a keynote, but an EXPERIENCE! Get your company on-the-right-track to success!
Insightful ... humorous ... entertaining ... even contagious ... words that are often used to describe Rhonda Scharf. A speaker with the uncanny ability to look at the normal and see something quite different.
Rhonda has been earning money from speaking since she was two years old! Her mother used to offer her 25 cents to be quiet for five minutes. Since that time she has figured out how to get clients to pay her to speak and to not be quiet. Her mother and her family still don't understand why.
Rhonda Scharf is a Professional Speaker, Trainer and Author. She has spoken to tens of thousands of people in 8 different countries. Rhonda has served as the 2004 Canadian Association of Professional Speakers (CAPS) National President, served on the Board of the International Federation of Professional Speakers and is named in the current edition edition of "Who's Who in Professional Speakers" (where she has been listed since 1998). Rhonda has earned the highest speaking designation in the world, the "Certified Speaking Professional" (CSP) designation. She has the longevity, experience and credibility to hit a home run every time!
While all these achievements are good and fine, if you want someone to connect with your audience, to inspire them to greater heights and to laugh out loud, then Rhonda is the one for you!
Videos
---
Links
---
Related Speakers View all
---
Eric Gnezda

Humorist, songwriter and inspirational speaker. Crea...

Preston Keith Fox

THE ANTI-MOTIVATIONAL-MOTIVATIONAL SPEAKER

James Munton

Author/Deception Expert/Identity Theft Speaker

Adora Svitak

Writer, Speaker, Education Advocate, and Child Prodigy

Mak Man

Dynamic Motivational Speaker and Published Author . ...

Devin Hughes

Devin C. Hughes-The Chief Inspiration Officer

Michael McCain

Awakening Millions To Their Potential -Author, Coach...

Liz Nead

Life Coach and Inspirational Speaker

David Hyner

Professional Speaker, "The Massive Goal Principle"

Hypnotist The Incredible BORIS

Keynote Speaker and award-winning Motivational Hypno...

Tina Marie Jones

Connecting with the audience through the style of a ...

Grant D. Fairley

A master story teller who encourages and motivates a...

Monica Strobel

Igniting Positive Culture, Positive Leadership, High...

Mike Vardy

Productivity and Time Management Specialist | Writer...

Peter Frampton

Following his Grammy Award-winning instrumental albu...

Adam Leotta

You don't need to be famous to be a great speaker

Dr. Brad Johnson

Expert Speaker in the Field of Education and Leadership

Crystal Gifford

Awarded Speaker, Best Selling Author, Professor, Men...

Barry Reitman

Fast-paced, fun-filled memory improvement.

Shemeka Brathwaite

Professional Speaker, Certified Coach, Trainer and C...
More like Rhonda