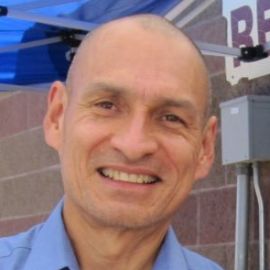 As the senior scientist and director of the Food and Environment Program at the Union of Concerned Scientists, Ricardo Salvador works with citizens, scientists, economists, and politicians to transition our current food system into one that grows healthy foods while employing sustainable and socially equitable practices.
Before coming to UCS, Dr. Salvador served as a program officer for food, health, and well-being with the W.K. Kellogg Foundation. In this capacity, he was responsible for conceptualizing and managing the Foundation's food systems programming. He partnered with colleagues to create programs that addressed the connections between food and health, environment, economic development, sovereignty, and social justice.
Prior to that, he was an associate professor of agronomy at Iowa State University. While at ISU, Dr. Salvador taught the first course in sustainable agriculture at a land-grant university, and his graduate students conducted some of the original academic research on community-supported agriculture. He also worked with students to establish ISU's student-operated organic farm, and with other faculty to develop the nation's first sustainable agriculture graduate program in 2000; Dr. Salvador served as the program's first chair. Dr. Salvador also worked as an extension agent with Texas A&M University.
Dr. Salvador has appeared on MSNBC's Melissa Harris-Perry Show and has been quoted in The Boston Globe, The New York Times, Politico and many other outlets. Dr. Salvador was named a 2013 NBC Latino Innovator and received the James Beard Foundation Leadership Award in 2014. He was also an author of a 2014 op-ed in The Washington Post calling for a national food policy, which is changing how many think about food and farm policy.
Dr. Salvador earned a B.S. in agricultural science from New Mexico State University. He holds an M.S. and Ph.D. in crop production and physiology from Iowa State University.
Videos
---
Related Speakers View all
---
Urvashi Rangan

Chief Science Advisor for the GRACE Communications F...

Tristram Stuart

Environmental Campaigner, Author, Businessman

Bruce Friedrich

Co-Founder & Executive Director of The Good Food Ins...

Perumal Gandhi

Co-Founder Perfect Day, Inc.

Louise Gray

Freelance Environmentalist Journalist

Courtney Boyd Myers

Founder of AKUA

Tom Colicchio

Chef & Owner of Crafted Hospitality

Johannes le Coutre

Food Innovator & Researcher

Robyn O'Brien

TEDx Speaker, Food Industry Advisor, Former Financia...

Melissa King

Celebrity Chef; Champion of "Top Chef All-Stars" and...

Kate Kavanaugh

Entrepreneur, Regenerative Agriculture Advocate & CE...

Carrie Brownstein

Seafood Quality Standards Coordinator, Whole Foods M...

Pam Warhurst

Pam Warhurst cofounded Incredible Edible, an initiat...

Naoko Ishii

Chief Executive Officer and Chair, Global Environmen...

Daniel Pauly

Daniel Pauly is the principal investigator at the Se...

Laurie David

Producer, Activist Author,The Family Dinner: Great W...

Wes Jackson

Founder and Former President of The Land Institute

Louise Fresco

Food & Agriculture Expert, Advisor on Sustainability

Alex Shirazi

Host of the "Future Food Show", Founder & Managing D...

Lauren Singer

Advocate for Zero Waste, Blogger & Founder of The Si...
More like Ricardo