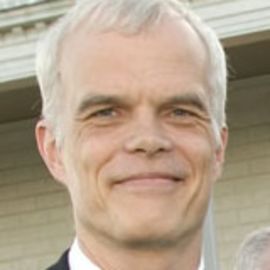 Richard Brookhiser is an American journalist, biographer, and historian. He is a senior editor at the National Review and columnist for the New York Observer.
Brookhiser is most widely known for a series of biographies of America's founders, including Alexander Hamilton, Governor Morris, and George Washington. He has written books that deal either with the nation's founding or the principles of America's founders, including What Would the Founders Do?, a book describing how the founding fathers would approach topical issues that generate controversy in modern-day America.
Brookhiser began writing for National Review in 1970, and went to work full-time for National Review in 1977; by the time he was 23, he was a senior editor, the youngest in the magazine's history.
He has written for a variety of magazines and newspapers. Brookhiser's work has appeared in the "Talk of the Town" section of The New Yorker magazine as well as in The New York Times, The Wall Street Journal, Cosmopolitan, The Atlantic Monthly, Time, and Vanity Fair.
Brookhiser both wrote and hosted the documentary films Rediscovering George Washington, and Rediscovering Alexander Hamilton. His book Alexander Hamilton, American led to the "Alexander Hamilton: The Man Who Made Modern America" exhibition at The New-York Historical Society (2004–2005), where he served as the historian curator.
He received an honorary doctorate degree in 2005 from Washington College, and in 2008, President George W. Bush awarded Brookhiser the National Humanities Medal in a White House ceremony.
Videos
---
Related Speakers View all
---
Todd Purdum

Senior writer at POLITICO and a contributing editor ...

Brad Meltzer

Host of History Channel's "Lost History" & "Brad Mel...

David McCullough

Historian and Bestselling Author

Dan Flynn

Author, Columnist, & Senior Editor of "The American ...

Diane Brady

Journalist, Entrepreneur, and Founder of dB Omnimedia

Steve Coll

Former President & CEO of New America Foundation; Pu...

Bob Woodward

Legendary Pulitzer Prize-winning Journalist/Author a...

Bill O'Reilly

Host of "The O'Reilly Factor," Best-Selling Author &...

Richard T. Ford

Expert on Civil Rights & Anti-Discrimination Law

Evan Thomas

Best-selling Author, Historian & Journalist

Clifton Leaf

Editor-In-Chief of Fortune Magazine; Combating Cance...

Michael Beschloss

Presidential Historian, New York Times Columnist & B...

Dean King

Award-Winning Best-Selling Author; Motivational & In...

James Hamblin

Preventive Medicine Physician, Lecturer at Yale Scho...

Annette Gordon-Reed

Professor of American Legal History at Harvard Law S...

Robert Greene

American Author; New York Times bestsellers The 48 L...

Scott Rosenberg

American Journalist, Editor, Blogger and Non-Fiction...

Patrick Chappatte

Editorial Cartoonist

Jeffrey Kluger

Journalist; Editor and Writer at TIME MAGAZINE. Auth...

Dan Walters

California Current Events & Politics Expert, Journal...
More like Richard