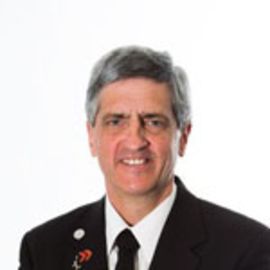 Richard de Crespigny
Aviaiton Safety, CRM, Hero
Qantas Flight 32 was a Qantas passenger flight that suffered an uncontained engine failure on 4 November 2010 and made an emergency landing at Singapore Changi Airport. The failure was the first of its kind for the four-engined Airbus A380, the world's largest passenger aircraft. On inspection, it was found that the aircraft's No.2 engine (on the port side nearest the fuselage), a Rolls-Royce Trent 900, had a missing turbine disc. The aircraft had also suffered damage to the nacelle, wing, fuel system, landing gear, flight controls, and to the controls for engine No.1. Captain Richard Champion de Crespigny, has been credited in the media as "having guided a heavily damaged double-decker jet to the safety of Singapore Airport and averting what could have been a catastrophe".[22] He has 35 years of flying experience and was the first Qantas "line" pilot to fly the Airbus A380.
Related Speakers View all
---
Doreen Welsh

Inspirational, Motivational, Aviation Safety, Hero, ...

Brian Udell

Supersonic Survivor Inspirational, Motivational, Safety

Patrick Shaub

Aviation Safety Specialist

Dave Soucie

Aviation Safety

Rod Machado

Humorist, Educator

Gregory A. Feith

Human Factors, Safety, Aviation Reporting

Mark Grady

Mark Grady, writer, commercial pilot and professiona...

Dean Englehardt

Dean Englehardt is the wacky and witty stunt pilot w...

Jerry Cockrell

Humorist/Aviation Safety/CRM

Preston Westmoreland

Having been burglarized four times and survived an a...

Rich Stowell

Rich Stowell developed his reputation at CP Aviation...

Cathe Fish

Cathe' Fish has taught motivating and entertaining a...

George Marrett

Biographical and Program Information

Barry Schiff

Barry Schiff is a Lockheed 1011 captain for TWA hold...

Ron Berler

Author of "Raising the Curve"

Dan Siegel

New York Times Best-Selling Author, Neuropsychiatris...

Dr. Steven Edwards

A leader nationally recognized by USA Today for his ...

Casey Reason

Dr. Casey Reason is a recognized expert in overcomin...

Mitch Resnick

Mitchel Resnick is LEGO Papert Professor of Learning...

Ben Glenn

Internationally Recognized Chalk Artist, ADHD Expert...
More like Richard