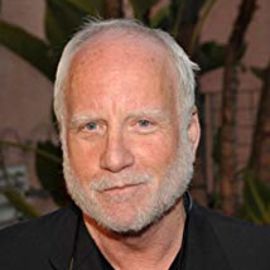 Richard Dreyfuss has been acting in American theatre and films for 45 years and is one of America's most versatile and individualistic actors.
Early in his career, he appeared in television and in many notable films including American Graffiti, The Apprenticeship of Duddy Kravitz, Jaws, and Close Encounters of the Third Kind.
Richard won the Oscar for his performance in The Goodbye Girl and he was nominated for his performance in Mr. Holland's Opus.
As a community leader, his current focus and passion is to encourage, revive, elevate and enhance the teaching of civics in American Schools. He is the Founder of the non-profit organization, The Dreyfuss Civics Initiative. He is a spokesperson on the issue of media informing policy, legislation, and public opinion, both speaking and writing to express his sentiments in favor of privacy, freedom of speech, democracy, and individual accountability. "All people have a right to know who they are and why they are who they are. Clarity of thought and honesty in self-reflection are more than needed utilities - they are the building blocks of our national moral character." (From: Why I Love My Country).
Richard serves on the committee for Education with the American Bar Association, has served 12 years on the Board of the National Constitution Center, is a Member of the Council on Foreign Relations and served as Senior Research Advisory Member of St. Antony's College, Oxford University.
In 2016, Richard portrayed the infamous Bernie Madoff in the critically acclaimed ABC miniseries, Madoff and starred in Bayu Caviar in 2018 and The Last Laugh in 2019.
Speech Topics
---
My Life as an Open Book: There are No Secrets in Hollywood
Seeking the Divine: A Conversation about Drug Addiction & Its Search for the Ultimate Epiphany
Teaching Children How to Think, Not What to Think: The Basic Tools of Reason, Logic, Dissent, Civility & Debate
Israel & the Diaspora: Who are the Jews?
Activism and Civic Responsibility: A Conversation with Richard Dreyfuss
Civic Engagement: It's as Necessary to Life as Oxygen
The Founding Fathers did a wonderful job creating the United States of America. Now, more than two centuries later, it's our turn to make sure that the reality remains as close to the ideal as possible. It used to be, when I was a kid, that there were classes in civics and you learned not only the checks and balances, but how's and whys and wherefores. And you learned what was the reasoning behind the creation of the Constitution and the Bill of Rights. It is time that we simply revive the notion that we can learn how to run the country - and learn not for Republicans and not for Democrats, but learn how to learn the Constitution. We have to teach civics not just to our children but to all Americans. That job isn't an easy one and it takes an educated citizenry to keep things on course. Educating that citizenry has become my mission over the past few years. We are a nation bound only by ideas and "if we are not taught and re-taught these ideas, we are not bound."
Related Speakers View all
---
Henry Winkler

Actor, Producer, Director & Best-Selling Author; Bes...

Mayim Bialik

Neuroscientist & Actress, Known For "The Big Bang Th...

Ben Stein

Political Economist, Commentator, Author & Actor

LeVar Burton

Literacy Advocate & Actor Known for "Roots," " Star ...

Dan Abrams

Chief Legal Affairs Anchor at ABC News & Founder of ...

Mandy Patinkin

Actor Best Known for "Homeland," "Criminal Minds" a...

Joan Lunden

Award-Winning Journalist, Bestselling Author & Healt...

Goldie Hawn

Academy Award-Winning Actress & Founder of the Hawn ...

Erin Gruwell

Founder & Executive Director of the Freedom Writers ...

Sean Astin

Actor, Director, Voice Artist & Producer Known For "...

Joseph Stiglitz

American Economist, Professor at Columbia Universit...

Joe Pantoliano

Emmy Award-Winning Actor & Film Producer

Montel Williams

Emmy Award-Winning Talk Show Host Best Known For "Th...

Jeffrey Tambor

Emmy Award-Winning Actor of "Arrested Development," ...

Asra Nomani

Journalist & Author, Women's Rights Activist

Daymond John

"Shark Tank" Investor; Founder & CEO of FUBU; Presid...

Josh Peck

Actor & Social Media Influencer

Harry Markopolos

The Bernie Madoff Whistleblower

Holly Robinson Peete

TV Personality & Autism Advocate

Ralph Nader

Former Presidential Candidate for the Green Party, C...
More like Richard