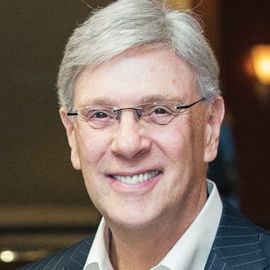 Since 1971, Lettuce Entertain You Enterprises, Inc. (LEYE) has maintained a sense of humor and enjoyment while creating high quality, successful restaurants.
Due to the innovation of LEYE's Founder and Chairman, Richard Melman, and his creative team of partners and employees, LEYE currently owns, licenses or manages more than 82 establishments in Illinois, Arizona, Minnesota, Nevada, California, Maryland and Virginia.
The founding of LEYE was the result of joining Melman's food ideas with the confidence and support of Jerry A. Orzoff, Melman's first partner. A successful real estate agent and North Michigan Avenue haberdasher, Orzoff (who died in 1981 at the age of 45), played a crucial role in Melman's life as a friend and mentor. "Jerry was a guy I respected and related to," says Melman. "He believed in my ideas. Meeting him was the turning point in my life."
After meeting Melman for the first time in 1970, Orzoff liked his off-beat ideas and believed in his ability. Working together as new friends and partners, Melman and Orzoff raised a total of $17,000 to create an upbeat eatery geared toward young singles interested in rock music, casual clothes and healthy food. Melman hired bright, attractive waitresses and bartenders and filled the location with hanging plants and modern artwork. The menu was designed to appeal to a variety of tastes and included everything from vegetarian and macrobiotic foods to hamburgers, sandwiches, milkshakes and the first fruit and vegetable-laden salad bar. Melman and Orzoff paired their first initials, added the sound a pig makes when eating and baptized the establishment R.J. Grunts on June 10, 1971 in Chicago's Lincoln Park. Despite a lackluster response in the opening weeks, Orzoff provided the much needed confidence and enthusiasm to keep Melman optimistic until his dream became reality. After one month, Grunts became a success.
For Melman and Orzoff, the success of R.J. Grunts marked the beginning. In 1973 new ideas and concepts were created, including the debut of Fritz That's It! in Evanston, Illinois, followed by the Great Gritzbe's Flying Food Show in 1974, Jonathan Livingston Seafood in 1975, and Lawrence of Oregano in 1976. With each new restaurant Melman's style evolved as he welcomed new challenges. Having mastered the off-beat casual restaurant style, Melman directed his attention and energy toward the world of fine cuisine when he reopened the famous Pump Room in Chicago's Gold Coast in 1976. In an attempt to maintain the ambiance and reputation of this establishment, which originally opened in 1938, Melman trained with a noted Chicago culinary expert, reorganized the kitchen, redecorated the room, and hired a staff trained in the LEYE philosophy. (NOTE: the Public Chicago Hotel currently handles Management of the Pump Room.)
In 1979, Melman decided to expand to the Chicago suburbs and opened Bones in Lincolnwood, Illinois. In 1980, LEYE took the popular R.J. Grunts, added a more contemporary look, and opened a second location in Glenview, Illinois.
Due to the success of The Pump Room, Melman became interested in an expansion of fine dining restaurants. As a result, in 1980, Melman and Chef Gabino Sotelino, traveled to France with the intent to bring contemporary French cuisine to Chicago. This led to the opening of Ambria and a lasting partnership between Melman and Sotelino.
Videos
---