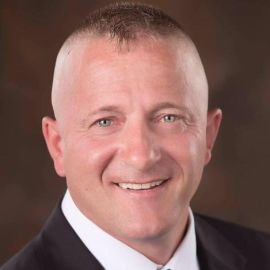 Richard Ojeda
Politician, Former West Virginia State Senator & Former 2020 Democratic Presidential Candidate
Richard Ojeda is a politician and retired Army Major who served as the West Virginia State Senator from the 7th district from 2016 until his resignation in January 2019. A member of the Democratic Party, he briefly ran a campaign for President of the United States in the upcoming 2020 election before dropping out on January 25, 2019.
Ojeda received national attention when he became a vocal supporter of the 2018 teachers' strike and advocated for the legalization of cannabis in West Virginia.
Ojeda was born in Rochester, Minnesota, the son of Florena (Pansera) and Richard N. Ojeda. He was born into a Democratic family and he registered as a Democrat. Ojeda's paternal grandfather was an undocumented immigrant from the Mexican state of Jalisco who came to West Virginia during the coal boom to try and make a living, and later gained citizenship.
Ojeda earned a bachelor's degree in General Education from West Virginia State University, a public, and historically black university in Institute, West Virginia. Also, Ojeda earned a master's degree in Business and Organizational Security from Webster University, a private and non-profit university in Webster Groves, Missouri.
He served 24 years in the United States Army, starting as an enlisted soldier before going through officer training and rising to the rank of major. He earned two Bronze Stars. During his service, he spent time in South Korea, Honduras, Jordan, Haiti, Afghanistan, and Iraq, where he was attached to the 20th Engineer Brigade.
After retiring from the military, Ojeda worked as an Junior ROTC instructor at Chapmanville Regional High School from 2013 to 2017, resigning due to time constraints related to his service as State Senator, in addition with his run for Congress.
He helped start a Junior Reserve Officers' Training Corps at a local high school. He established a social services nonprofit, the Logan Empowerment Action and Development, which engaged in community cleanup, Christmas toy drives, provided meals for the needy, and raised money for shoes for kids.
During this time, Ojeda also started penning letters to the editor of the Logan Banner. As a result, Ojeda was invited by Senator Joe Manchin of West Virginia to the 2013 State of the Union as a guest. Ojeda decided to enter politics while listening to Sen. Manchin discuss disparities in allocation of "manufacturing hubs" to different regions of West Virginia.
Ojeda entered politics in 2014, running for Congress in West Virginia's 3rd District. He garnered 34% of the vote in the Democratic primary, losing to incumbent Nick Rahall whom Ojeda challenged because he believed Rahall was not doing enough to advance the interests of the district.
Ojeda went on to win both the Democratic Primary for the 7th District of the West Virginia Senate, defeating incumbent Art Kirkendoll. In the general election, held on November 8, 2016, he defeated Republican Jordan Bridges by almost 18 points.
In the West Virginia Senate, Ojeda sponsored the West Virginia Medical Cannabis Act, legislation to legalize medical marijuana, which was signed into law by Governor Jim Justice on April 19, 2017.
In the Senate, he called for increases in teacher wages, arguing that low pay would lead to strikes and teachers leaving the state. In January 2018, he criticized West Virginia Governor Jim Justice's proposed 1–2% increase in teacher wages, saying it was insufficient.
Ojeda has stated "I don't think I've ever voted for a Democrat for president" and supported Donald Trump in 2016. He told Politico that he voted for Trump because he initially believed Trump would do something for West Virginians. By 2018, he expressed regret for voting for Trump.
Ojeda resigned from the West Virginia Senate on January 14, 2019 and went on to run for president in the 2020 elections.
Videos
---
Related Speakers View all
---
Seth Moulton

Congressman in Massachusetts; Former Marine Corps Of...

Steve Bullock

24th Governor of Montana; Former Democratic Candidat...

Tulsi Gabbard

U.S. Congresswoman for Hawaii; 2020 Presidential Can...

Eric Swalwell

U.S. Representative for California's 15th Congressio...

Jay Inslee

Politician, Author, Lawyer, 23rd Governor of Washing...

Pete Buttigieg

Secretary of Transportation; Former Mayor of South B...

Beto O'Rourke

Former 2020 Presidential Democratic Candidate; Forme...

Tim Ryan

U.S. Representative for Ohio's 13th Congressional Di...

Kirsten Gillibrand

New York Senator; Former 2020 Democratic Presidentia...

Joe Biden

46th President of the United States & Former Vice Pr...

Bernie Sanders

U.S. Senator, Vermont; Longest Serving Independent M...

Tom Steyer

California Business Leader; Philanthropist and Clean...

Michael Bennet

US Senator for Colorado

Tom Perez

Former Assistant Attorney General for Civil Rights a...

Kayla M. Williams

Assistant Secretary of the Office of Public and Inte...

Beau Wise

United States Marine Corps Combat Veteran & Author o...

Joe Sestak

Former 2020 Democratic Presidential Candidate; Forme...

Wayne Messam

Politician & Businessman; Mayor of Miramar, Florida;...

Roger Manno

Former Majority Whip in Maryland Senate

Jewell Jones

State Representative, Michigan House of Representatives
More like Richard