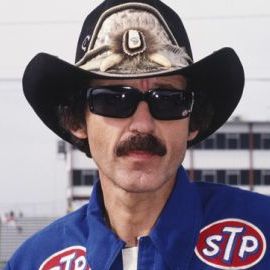 Known to many simply as "The King," NASCAR Hall of Famer Richard Petty is the most decorated driver in the history of NASCAR racing, winning a record number 200 career races and seven NASCAR Cup championships during his career. Additionally he won the Daytona 500 seven times and 27 races in a single season.
He also collected a record number of poles (127) and over 700 Top 10 finishes in his 1,184 starts, including 513 consecutive starts from 1971–1989. Petty was the only driver to ever win in his 500th race start, until Matt Kenseth joined him in 2013. He was inducted into the inaugural class of the NASCAR Hall of Fame in 2010.
Petty took the sole role of car owner after retiring from behind the wheel in 1992. Although not behind the wheel, over the next two decades Petty continued to be the driving edge behind Petty Enterprises. Leading a two-car Sprint Cup team, "The King" once again proved to be a winner when the No. 43 visited victory lane with driver Bobby Hamilton in 1996 in Phoenix, Ariz. The following year the No. 43 won again with Hamilton, this time in Rockingham, N.C. All the while, the organization continued to grow with the expansion into the NASCAR Camping World Truck Series.
A winner at the grassroots levels, Petty's grandson Adam reached the Nationwide Series under the Petty banner. Tragically, Adam was killed in a racing accident in May of 2000. The accident sent Petty and the family-run business through heartbreak and transition. However, Petty was able to move the team forward and keep Adam's spirit alive forever by donating 84 acres of his own land for the formation of Victory Junction Gang Camp. The camp gives chronically ill children the chance to experience life-changing camping experiences in a safe and medically-sound environment.
Related Speakers View all
---
Michael Waltrip

Two-Time Daytona 500 Champion & founder of Michael W...

Jeff Gordon

Legendary NASCAR Driver

Mia Hamm

Retired Professional Soccer Forward; Two-Time Olympi...

Magic Johnson

Basketball Hall of Famer, Entrepreneur, Philanthropi...

Wayne Gretzky

Legendary Hockey Player & Founder of the Wayne Gretz...

Justin Bell

World Champion Race Car Driver; Host of "Worlds Fast...

Shaun White

Professional Snowboarder & Skateboarder, Two-Time Ol...

Walt Frazier

Former NBA Player

Dale Earnhardt Jr.

Third-Generation Driver, NASCAR's Most Popular Drive...

Paul Azinger

Former PGA Player of the Year; Cancer Survivor; Auth...

Herman "Herm" Edwards

Former American Football Player; Arizona State Head ...

Darrell Waltrip

Retired NASCAR Driver; NASCAR FOX Television Comment...

Kenny Wallace

NASCAR Stock Car Driver; On-Air Personality for "SPE...

Joe Torre

Chief Baseball Officer for Major League Baseball; Na...

Michael Strahan

Co-Host of 'Good Morning America,' Fox NFL Sunday An...

Summer Sanders

Olympic Gold-Medalist & Swimmer; Sports Commentator

John Ratzenberger

Emmy-Nominated Actor, Entrepreneur & Philanthropist

Vince Papale

Former NFL Player & Inspiration for the Movie "Invin...

Rebecca Lobo

Former WNBA Star, Olympic Gold Medalist & Sports Com...

Lisa Leslie

WNBA Champion, Olympic Gold Medalist & Author of "Do...
More like Richard