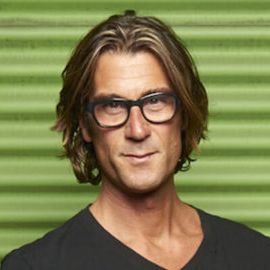 A graduate of Stanford University and Cornell Law School, Rich is a 47-year old, accomplished vegan ultra-endurance athlete and former entertainment attorney turned full-time wellness & plant-based nutrition advocate, motivational speaker, husband, father of 4 and inspiration to people worldwide as a transformative example of courageous and healthy living.
In 2012, Rich became a #1 bestselling author with the publication of his inspirational memoir Finding Ultra: Rejecting Middle Age, Becoming One of the World's Fittest Men, and Discovering Myself (Crown Archetype). Taking up where the book leaves off, in 2013 Rich launched the wildly popular Rich Roll Podcast, which persistently sits atop the iTunes top-10 lists.
In May 2010, Rich and his ultra-colleague Jason Lester accomplished an unprecedented feat of staggering endurance many said was not possible. Something they call the EPIC5 CHALLENGE – a odyssey that entailed completing 5 ironman-distance triathlons on 5 islands of Hawaii in under a week. Commencing on Kauai, they travelled to Oahu, Molokai and Maui before finishing on the Big Island, following the course of the Ironman World Championships on the Kona coast.
In addition, Rich has been a top finisher at the 2008 and 2009 Ultraman World Championships in Hawaii. Considered by many to be one of world's most daunting and grueling endurance races on the planet, Ultraman is a 3-day / 320 mile double-ironman distance triathlon that circumnavigates the entire Big Island. Limited to only 35 carefully selected invitation-only participants from all over the world, Day 1 involves a 6.2 mile ocean swim immediately followed by a 90 mile cross-country cycling race. Day 2 is a 170 mile cycling race. And the event culminates on Day 3 with a 52 mile double marathon run on the searing hot lava fields of the Kona coast.
But what makes Rich truly remarkable is that less than two years prior to his first Ultraman, he didn't even own a bike, let alone race one.
Although he competed as a butterfly swimmer at Stanford University in the late 80's, Rich's career was cut short by struggles with drugs and alcohol — an addiction that led him astray for the next decade, alienating friends, colleagues and family, landing him in jails, institutions and ultimately rehab at age 31. Although sober, Rich soon found himself 50 pounds overweight; the furthest thing from fit. Everything came to head on the eve of his 40th birthday. Defeated by a mere flight of stairs that left him buckled over in pain, he foresaw the almost certain heart attack looming in his near future.
It was time for a major life change.
The day immediately following his staircase epiphany, Rich overhauled his diet, became a dedicated vegan, put on his running shoes and jumped back into the pool. It wasn't long before ambition took hold and his quest to participate in Ultraman slowly began. Two years later, 50 pounds lighter, and fueled by nothing but plants, he surprised the triathlon & ultra communities by not only becoming the first vegan to complete the 320-mile über-endurance event, but by finishing in the top 10 males (3rd fastest American) with the 2nd fastest swim split — all despite having never previously completed even a half-ironman distance triathlon.
In 2009, Rich returned to Ultraman twice the athlete he was the year prior. Despite a stacked field, he took home first day honors with a blistering 2:21 swim victory (6th fastest of all time) and a third fastest bike leg to win the day with a 10 minute lead on the field. On Day 2 Richard suffered a serious bike crash but managed to salvage the day in 6th place overall. With an injured knee and shoulder Richard nonetheless went on to a 7:51 Day 3 double-marathon to hold onto 6th place overall.
Rich's plant-fueled feats of boundary-pushing athleticism have been featured on CNN and in the pages of the Los Angeles Times Sunday Magazine, The Huffington Post, Stanford Magazine, Men's Health Living, VegNews, Triathlete, Outside, 3/GO Magazine and Men's Fitness Magazine, which named Rich as one of the "25 Fittest Men in the World."
Along with his wife, four children and golden retriever Bodhi, Rich resides Malibu Canyon outside of Los Angeles.
When he isn't writing, podcasting or spending time with his family, you can find him lost on the remote trails of the Santa Monica Mountains.
Videos
---
Speech Topics
---
Unlocking Your Best Self Through Plant-Based Nutrition
"I want to eat and feel better, but I just don't know how to do it!" We all know the refrain. The United States is the most prosperous nation on the planet, and yet we've never been more sick. Heart disease, obesity, diabetes and cancer are modern day plagues, killing us by the millions. Swimming in escalating health care costs, families and corporate America are desperate to find a sustainable solution to improve individual and workforce health. But how? The truth is, the solution has been staring us in the face all along. Over the course of this 70-minute keynote, Rich will inspire you with his personal story of redemptive health, educate you with the science behind good nutrition, and leave you with the tips, tools and strategies to follow in his footsteps.
Living Your Authentic Life
"I feel stuck in a life I didn't consciously choose – how can I change?" Too many of us are living lives of quiet desperation. Locked in a habitrail life without the keys to escape. But freedom isn't just possible, it's our mandate. In this compelling talk that merges Rich's personal journey with tangible and powerful tips and takeaways, Audiences will be left inspired to delve deep within; and empowered to embark on a journey of self-discovery with the tools to unlock and unleash the best, most authentic version of ourselves.
The Plantpower Revolution Is Now
Talking about food is personal. Right up there with religion and politics. And with so many fad diets and conflicting information about nutrition at our fingertips, it's enough to cause vertigo in even the most discerning consumer. But what we put in our mouths has ramifications that extend well beyond personal preference. We are in the midst of a health care crisis of unprecedented proportions that has our economy stalled. Meanwhile, our planet is dying, teetering on ecological disaster. The biggest contributor to these problematic times? Our industrialized system of animal agriculture — indisputably the single largest contributor to every known environmental ill known to human kind including water scarcity, deforestation, land use, species extinction, the destabilization of communities and world hunger. The world's obsession with an animal-centric diet is not only killing us, it's an environmental disaster that is polluting our atmosphere and oceans, depleting our resources, obliterating species and destroying the Earth at an alarming rate of speed. But there is a solution. And it's simple. Adopting a plant-based lifestyle is the optimal solution to be healthy, stay healthy and raise healthy, conscious children while simultaneously fulfilling our collective responsibility as consumers, parents and stewards of the planet.
The Plantpower Athlete
Collective wisdom is that "vegan" and "athlete" cannot co-exist. But this is pure nonsense. In this illuminating talk, Rich reveals the truth behind nutrition, the tactics used by conglomerate food manufacturers to dupe and confuse consumers and sets the record straight – not only can you succeed athletically on a plant-based diet, it is the optimal protocol for maximum performance.
Investing In the Journey
The most popular meme of the decade just might be the hack. Hack your diet, hack your fitness, hack your job, hack your wife. But when did a term so historically pejorative suddenly become aspirational. In this short 15-minute, TED Talk-type discourse, Rich launches a plea to forget short-cuts and our insatiable drive for instant gratification. An appeal to not only slow down, but to invest in the journey. An inspirational and illuminating look at the insanity that drives us away from the goals, success and life satisfaction we so desperately seek.
Related Speakers View all
---
Chris Herren

Former NBA Player & Speaker on Substance Abuse Disor...

Danny Trejo

Actor, Activist & Restaurateur

Mackenzie Phillips

Actress, Singer & Author of "High on Arrival: A Mem...

Steve Ford

Actor & Son of President Gerald Ford

Tony Hoffman

Pro BMX Competitor & Recovering Addict

Thomas Henderson

Former Dallas Cowboys Linebacker; Drug & Alcohol Add...

Maurice Clarett

College Football National Champion, Philanthropist &...

Kevin Hines

Brain Health Advocate & Storyteller

Jason Wahler

TV Personality, Known for "Laguna Beach" "The Hills"...

Ed Begley Jr.

Environmental Activist & Emmy Award-Nominated Actor

Jodie Sweetin

Entrepreneur, Actress, Producer & Author

Richard Cabral

Actor Known for "American Crime", Reformed Drug Addi...

Matthew Perry

Actor & Recovery Advocate, Known for "Friends"

Clint Malarchuk

Former NHL Goalie, NHL Coach, Suicide Survivor & Men...

Laurie Dhue

News Anchor, Media Consultant & Alcohol Recovery Adv...

Ginger Zee

Chief Meteorologist for ABC News, Author & Mental He...

Todd Marinovich

Former NFL Quarterback for the Los Angeles Raiders

Eric Millegan

Actor, Mental Health & Bipolar Disorder Activist

Natasha Lyonne

Actress known for "American Pie" and "Orange Is the ...

Mark Ballas

Dancing with the Stars Champion & Mental Health Acti...
More like Rich