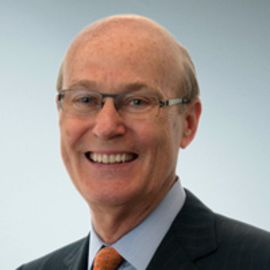 Richard Wilhelm is Senior Executive Advisor of Booz Allen.
Before retiring and transitioning to a senior executive advisory role, Wilhelm led Booz Allen's U.S. intelligence community market group. During his 16-year tenure at the firm, he developed and led businesses in the intelligence community, the Department of Homeland Security, and the civil agencies. He also led engagements in the commercial and international sectors.
Prior to joining Booz Allen in 1998, Wilhelm was a career Navy intelligence officer and a civilian appointee. His nearly 30-year career included serving as executive director for intelligence community affairs during the Clinton Administration and as a senior advisor on Vice President Al Gore's national security staff, responsible for intelligence, terrorism, and a range of other global national security issues. As a U.S. Navy officer, he co-directed the Joint Intelligence Center for Iraq during Operation Desert Storm and was the first director of information warfare at the National Security Agency.
In his role in the Joint Intelligence Center for Iraq, he supported the Secretary of Defense, chairman, joint chiefs of staff, and combat commanders in the Persian Gulf. He was instrumental in developing the target set for the air war that crippled Iraq's command and control infrastructure. As the Executive Director for Intelligence Community Affairs, Richard was the senior national intelligence official responsible for budget formulation, policy, planning, program assessment, and cross-community matters. He testified before Congress, sat on two defense science boards, and is a member of the Markle Task Force on National Security in the Information Age. He also serves on the advisory board for the Maxwell School of Citizenship and Public Affairs at Syracuse University, and on the boards of two small companies.
Richard has a B.A. in Russian studies from Syracuse University and performed graduate work at Georgetown University. He is a distinguished graduate of the Naval War College and graduated with distinction from the Defense Language Institute's advanced Russian language course.
Related Speakers View all
---
Nicholas Burns

Professor of the Practice of Diplomacy & Internation...

David M. Rubenstein

Co-Founder & Co-CEO of The Carlyle Group

Mickey Edwards

Vice President & Program Director, Rodel Fellowships...

Rye Barcott

Co-Founder & CEO of With Honor, Veteran and Author o...

Clive Crook

Columnist and member of the editorial board at Bloom...

Paul Rieckhoff

Founder and Executive Director of Iraq and Afghanist...

Seth Berkley

CEO of Gavi, the Vaccine Alliance; Medical Doctor Sp...

James Steinberg

Dean, Maxwell School of Syracuse University; Former ...

Robert Hormats

Vice Chairman of Kissinger Associates Inc.

Richard Florida

Leading Urbanist, Economist & Author of "The Rise of...

Steve Clemons

Editor-at-Large at The Hill; Former Editor-in-Chief ...

Kai Ryssdal

Host & Senior Editor of American Public Media's "Mar...

Andrew Ross Sorkin

Financial Columnist for The New York Times & Co-Anch...

Vijay V. Vaitheeswaran

Global Correspondent, The Economist; Author, Speaker...

Moby

Musician, DJ, Photographer

Anna Deavere Smith

Award-Winning Actress, Playwright, Social Commentator

Andrea Mitchell

Award-Winning Chief Foreign Affairs Correspondent at...

Jonathan Haidt

Professor of Ethical Leadership at New York Universi...

Dan Levy

Star of "Schitt's Creek," Comedian and Actor Who Rec...

Zach Woods

Comedian & Actor; Known for His Roles in "The Office...
More like Richard