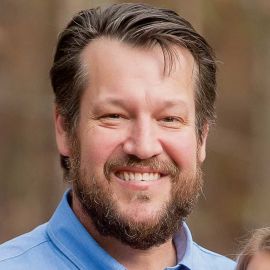 Rick Burgess is a radio morning show personality and one-half of the nationally-syndicated "Rick & Bubba Show," which broadcasts from studios in the Vestavia Hills City Center and locally on its flagship station WZZK.
The "Rick & Bubba Show" is heard for five hours each weekday morning on their flagship station WZZK-FM and on 75 affiliate stations in 17 states, primarily in the Southern United States. Most of the affiliates are FM music stations, but the show does not play music, except for bumper music leading in and out of commercial breaks.
In addition to their radio show, the duo has authored multiple books, including "Rick & Bubba's Expert Guide to God, Country, Family & Anything Else We Can Think Of," which landed on the New York Times bestseller list at the number 7 spot in the miscellaneous category. Other books include: "Rick and Bubba's Big Honkin' Book of Huntin," "Rick and Bubba's Guide to the Almost Nearly Perfect Marriage," "Rick and Bubba's Big Honkin' Book of Grub," and many more.
Burgess often refers to his Christian faith and beliefs on air, with the show regarded as a family-safe alternative to other morning radio shows. Their political beliefs are also very conservative. The two became friends while working at their college's radio station.
The show is clean, family-oriented, and addresses relationships, marriage, religion, politics, family life, and current events with a slice of unique humor.
Related Speakers View all
---
Mickey English

Radio Personality/Actor/Comedian

Tina Marie Jones

Connecting with the audience through the style of a ...

Jon Stewart

Talk Show Host, Comedian & Producer

Ben Stein

Political Economist, Commentator, Author & Actor

Bill Maher

Political Satirist & Host of HBO's "Real Time"

Al Franken

Former Senator from Minnesota; Former SNL Writer; Si...

Dee Snider

Daniel "Dee" Snider is an American singer-songwriter...

Aaron Joy

respected rock music critic, label owner & interview...

Rick and Bubba

Hosts of "The Rick and Bubba Show"

Stephen Fry

British TV Presenter, Writer, Actor, Comedian & Film...

Dave Broadfoot

Award-Winning Comedian

Shawn Rene Zimmerman

Professional Fitness Model and Celebrity Trainer

Alan Zweibel

Alan Zweibel's career began writing and creating cha...

Jesse Dylan

Filmmaker & CEO, Freeform / Founder, Lybba.org

Jimmy Tingle

Stand-up Comedian & Outspoken Social Commentator

Mark Russell

America's Foremost Political Satirist

John Morgan

Humorist, Author and Speaker; Leading President Geor...

Penn Jillette

Magician, Actor, Musician, Inventor, Television Pers...

Roy Firestone

Award-Winning Journalist, Commentator & Impressionist

David Feherty

Golf Commentator on NBC Sports, TV Host, Bestselling...
More like Rick