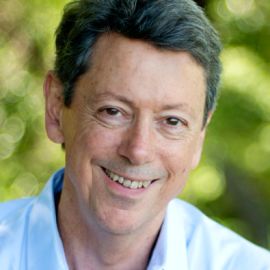 Rick Hanson, PhD
Neuropsychologist Senior Fellow of the Greater Good Science Center at UC Berkeley, and New York Times Best-Selling Author
Rick Hanson, Ph.D., is a neuropsychologist and New York Times best-selling author. His books include "Hardwiring Happiness: The New Brain Science of Contentment, Calm, and Confidence", "Buddha's Brain: The Practical Neuroscience of Happiness, Love, and Wisdom", "Just One Thing: Developing a Buddha Brain One Simple Practice at a Time", and "Mother Nurture: A Mother's Guide to Health in Body, Mind, and Intimate Relationships."
Founder of the Wellspring Institute for Neuroscience and Contemplative Wisdom and on the Advisory Board of the Greater Good Science Center at UC Berkeley, he's been an invited speaker at Oxford, Stanford, and Harvard, and taught in meditation centers worldwide. A summa cum laude graduate of UCLA, his work has been featured on the BBC, NPR, CBC, FoxBusiness, Consumer Reports Health, U.S. News and World Report, and O Magazine and he has several audio programs with Sounds True. His weekly e-newsletter – Just One Thing – has over 100,000 subscribers, and also appears on Huffington Post, Psychology Today, and other major websites.
Videos
---
Related Speakers View all
---
Shawn Achor

Harvard Professor, Researcher & Positive Psychology ...

Dan Ariely

Behavioral Economist; Professor at Duke University; ...

Daniel Kahneman

Retired Professor of Psychology & Public Affairs at ...

Stuart Firestein

Scientist; Advocate for the Public Understanding of ...

Read Montague

An American neuroscientist and popular science autho...

Vilayanur Ramachandran

Neuroscientist; Director of the Center for Brain & C...

Calvin Trillin

Author, Columnist, Humorist & Political Satirist

Ray Kurzweil

Chairman of Kurzweil Technologies; Inventor; Futurist

Dr. Michio Kaku

World-Renowned Futurist & Theoretical Physicist

Sandra Aamodt

Neuroscientist

Daniel Altman

Sports Analytics & Strategy Expert

Antonio Damasio

Director of the Brain Institute

Spencer Wells

Geneticist, Anthropologist, Author, Entrepreneur, Ad...

Dr. Paul Wolpe

Director of the Emory Center for Ethics

Noam Chomsky

Professor of Linguistics and Philosophy at MIT & For...

Sheena Iyengar

Columbia University Business Professor & Bestselling...

Andrew Cohen

Founder, EnlightenNext

Dean Kamen

Inventor and Entrepreneur; President, DEKA Research ...

Vic Strecher, Ph.D. MPH

Founder, JOOL Health; Professor, University of Michi...

Rafael Yuste

Professor of Biological Sciences and Neuroscience at...
More like Rick