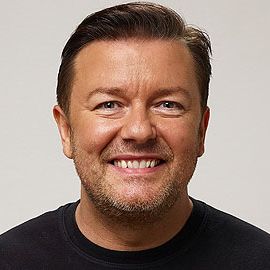 Ricky Dene Gervais is an English stand-up comedian, actor, writer, producer, director, and singer.
Gervais worked initially in the music industry, attempting a career as a pop star in the 1980s as the singer of the new wave act Seona Dancing and working as the manager of the then-unknown band Suede before turning to comedy. Gervais appeared on The 11 O'Clock Show on Channel 4 between 1998 and 2000. In 2000, he was given a Channel 4 talk show, Meet Ricky Gervais, and then achieved greater mainstream fame a year later with his BBC television series The Office. It was followed by Extras in 2005. He co-wrote and co-directed both series with Stephen Merchant. In addition to writing and directing the shows, he played the lead roles of David Brent in The Office and Andy Millman in Extras. He reprised his role as Brent in the comedy film David Brent: Life on the Road.
Gervais began his stand-up career in the late 1990s. He has performed five multi-national stand-up comedy tours, and wrote the Flanimals book series. Gervais, Merchant and Karl Pilkington created the podcast, The Ricky Gervais Show, which has spawned various spin-offs starring Pilkington and produced by Gervais and Merchant.
He has also starred in the Hollywood films Ghost Town, and Muppets Most Wanted, and wrote, directed and starred in The Invention of Lying and the Netflix released Special Correspondents. He hosted the Golden Globe Awards in 2010, 2011, 2012 and 2016, and appears on the game show Child Support.
Gervais has won seven BAFTA Awards, five British Comedy Awards, two Emmy Awards, three Golden Globe Awards and the 2006 Rose d'Or, as well as a Screen Actors Guild Award nomination. In a 2004 poll for the BBC, he was named the third most influential person in British culture.In 2007, he was voted the 11th greatest stand-up comic on Channel 4's 100 Greatest Stand-Ups and again in the updated 2010 list as the 3rd greatest stand-up comic. In 2010, he was named on the Time 100 list of the world's most influential people.
Videos
---
Related Speakers View all
---
Sir Richard Branson

Businessman, Founder of Virgin Group

Ray Kurzweil

Chairman of Kurzweil Technologies; Inventor; Futurist

Moby

Musician, DJ, Photographer

Parag Khanna

Leading Geo-Strategist & Author

Graham Hill

Founder of Life Edited & TreeHugger.com

John Legend

EGOT Winning Musician, Producer & Philantropist

Dan Ariely

Behavioral Economist; Professor at Duke University; ...

Brian Hoffstein

Contributing Writer

Spencer Wells

Geneticist, Anthropologist, Author, Entrepreneur, Ad...

Peter Rojas

Co-founder of Gizmodo and of Engadget

Virginia Postrel

Author & Columnist; Writes on The Intersection of Co...

Cody Adams

Managing Editor of The Floating University.

Peter Thiel

Former CEO and Co-founder of PayPal; Technology Entr...

Tiffany Shlain

Emmy-Nominated Filmmaker & Founder of the Webby Awards

Calvin Trillin

Author, Columnist, Humorist & Political Satirist

Adam Bly

Ex-VP of Data at Spotify; Founder of Seed; Founder o...

An Phung

Multimedia Journalist

Clay Shirky

Expert on New Technology & Social Media, & How They ...

David Pogue

Host of NOVA ScienceNow & Yahoo Tech Columnist

Peter Diamandis

Founder & Executive Chairman of the XPRIZE Foundatio...
More like Ricky