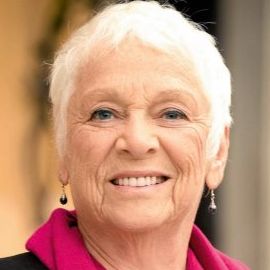 Rita Golden Gelman is the author of more than seventy children's books and two adult books. Her memoir, "Tales of a Female Nomad, Living at Large in the World," was published in 2001 by Crown/Random House and it is still selling widely in paperback. In 1987 Gelman decided to sell all her possessions and become a citizen of the world. She has never returned to a settled life; she calls herself a "modern day nomad." She still has no home and few possessions. In "Tales...," she writes about the first fifteen years of living around the world, mostly in developing countries.
Gelman's most recent book (June, 2010) is an anthology, "Female Nomad and Friends, Breaking Free and Breaking Bread Around the World." Forty-one authors, all but two of them women, tell their stories of "connecting across cultures." Gelman has eight stories in the book. There are also thirty three international recipes. All the author royalties from this anthology are used to send high school graduates from slums in New Delhi to vocational schools. Rotary International is facilitating the scholarships in New Delhi via US Rotary in Leonardtown, MD.
Gelman's children's books include "More Spaghetti, I Say!" about Minnie, a monkey who can't stop eating spaghetti, and "Body Battles," about how our bodies fight off viruses and other threats to our health, like drugs and poisons. The spaghetti book is a staple in most first and second grade classrooms.
Gelman's early years ignited a lifelong passion for connecting to all kinds of people. Her family owned a small pharmacy in Bridgeport, CT. As a teenager, she worked the soda fountain in the store. Her favorite part of the job was interacting with immigrant customers, who came in many sizes, shapes, accents and styles.
Rita Golden Gelman attended Beardsley Elementary School, Harding High School for her freshman year and Bassick High School for her last three years. She graduated from Bassick in 1954 and went to Brandeis University in Waltham, Massachusetts, where she gained her B.A. in English and American Literature in 1958. Many years later she studied anthropology at UCLA.
After graduating from college, she moved to New York and lived in Greenwich Village until 1976, and then in Los Angeles until she began her nomadic life. In 1960, she married. Her son, Mitch, was born in 1962 and her daughter, Jan, was born in 1963. After having children, she was a stay at home mom, at first dabbling in commercial writing and later devoting herself to authoring children's books.
Her first book, DUMB JOEY, was published in 1972. The book was about a group of kids in New York City who had nowhere to play.
In 1987, on the verge of divorce, Gelman decided that it was time to live her dream of traveling the world and living among people in other cultures. It's been 24 years and she still has no permanent home; her new passion is to bring the concept of a "Gap Year" to teens in the U.S. Her organization, Let's Get Global, is dedicated to encouraging and assisting recent high school graduates to have international experiences before they begin the next phase of their lives. The ultimate goal of LGG is to create a cultural norm in the United States that will make it a common practice to extend education beyond U.S. borders. Let's Get Global suggests that graduating high school seniors defer college or the job world for a year while they immerse themselves in other cultures and discover the common humanity of mankind. www.ritagoldengelman.com
Gelman has delivered keynote speeches for many different organizations, among them, Global Citizen's Network, San Diego International Hostel Association, US Servas, Inc., CSIET (Council on Standards for International Educational Travel). She has also spoken at many Rotary meetings, colleges, and bookstores around the country
Related Speakers View all
---
Jennifer L. Holm

Three-Time Newbery Honor-Winning & New York Times Be...

Pam Muñoz Ryan

NYT Bestselling Author Known for "Esperanza Rising" ...

Jeffrey Brown

Comic Book Artist & Writer Known for the "Star Wars:...

Lois Lowry

Newbery Medal-Winning Author of "Number the Stars" a...

Jane Yolen

Author, Editor & Writer of Fantasy, Science Fiction ...

Meg Wolitzer

Bestselling Author of 'The Interestings" & "The Fema...

T.C. Boyle

Perennial Bestselling Author

Eric Litwin

Award-Winning Children's Author. Live Children's Ent...

Marc Brown

Children's Book Author & Creator of "Arthur"

Jason Reynolds

Critically Acclaimed Author & NAACP Image Award Winner

Laura Numeroff

Children's Books Author & Illustrator; Best Known as...

Sy Montgomery

Naturalist, Adventurer & Author of "The Good Good Pi...

Debbie Dadey

Author of Over 145 Children's Books, Including "The ...

Tim Federle

Award-Winning Writer, Former Broadway Dancer

Orson Scott Card

Science Fiction Novelist; Best Known for his "Ender'...

Judy Blume

Children & Young Adult Novelist & New York Times Bes...

Amy Waldman

Journalist, Author, "The Submission"

Erin Gruwell

Founder & Executive Director of the Freedom Writers ...

Raymond Briggs

English Illustrator & Author Known For "The Snowman"

Peter H. Reynolds

Author, Illustrator & Founder of FableVision
More like Rita