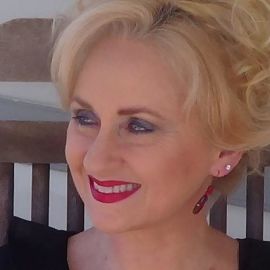 Rita is an award-winning soloist, teacher, and inspirational keynote speaker who has journeyed from Sand Mtn. Alabama to Carnegie Hall! Her presentations are absolutely unforgettable and absolutely life-changing!
"Not only is she talented, but she is a very pleasant person making the planning and implementation of stress related activities much easier," says Tom Quinn, Director of the Etowah County Chamber of Commerce, who booked Rita numerous times one of which was the annual Riverfest, hosting crowds of over 20,000!
Rita is an educated Southern Belle with the strength of a Steel Magnolia, and a voice that demands attention. Since 1982 she has enjoyed her own, very successful, performing arts school teaching private voice, public speaking, leadership, personal development, wellness, motivation, stage presence and stress/anger management. She has trained hundreds, from ages 6 to 90, from all walks of life. Rita's company captured 35%+ of the market share for over ten years. She designed and directed yearly revues with casts of up to 120 including singing, speaking, dancing and drama! Six years she performed at Carnegie Hall in New York with her choirs. She is a recognized performer both on stage and screen, with 442 videos on YouTube hosting over 134,000 views. Rita has a fully dedicated walk with God, strong business credentials, excellent presentation skills and charismatic ability which can carry the heart and mind to uncharted territory.
Rita's accomplishments include a Master of Arts Degree, a Master of Science Degree in Management, a Bachelor's Degree in Sociology (the big sister of Social Media) with a minor in Music and an Associate Degree in Music Education/Vocal Performance. Rita is Past President of the Alabama Speakers Association and a full-time Speaking Professional. In 2010 she was a featured soloist for the Grand Opening Session of the NSA National Convention in Orlando, Florida where there were attendees from 17 different countries. Rita has changed countless thousands of lives with the Power of Music, both personally and professionally. She loves a challenge, cherishes adventure and has no problem climbing every mountain!
Rita began her "stage" life at age three which developed into a full-time travel-performance life by age 19. After being awarded second place for female soloist in the Florida Gospel Music Awards, her performance career soared. She became a member of the movie cast, "Kent State Riot," starred in numerous TV commercials and made many TV appearances from news programs to full TV specials. Three years in a row, Rita was a finalist in the Mrs. Alabama Pageant resulting in a contract pageant judging position with a national pageant, judging pageants from Maine to Florida.
Rita knows people! She has worked in a large variety of industries including personal trainer, VP of Public Relations, data processing secretary, radio DJ, radio sales, Entry Fee/Life Care Retirement Community marketing director, corporate admin asst to managing partner, drug rehab counselor, corporate consultant, private coach, paid first soprano, life insurance admin asst, auto insurance sales, choral director fitness center sales, processing plant secretary, numerous boards and volunteer groups, music minister, school teacher, retail customer service, Mary Kay and Merle Norman, Amway and other various multi-level marketing ventures, telemarketer (first job of life!) and more!
She loves a challenge and cherishes adventure!
Speech Topics
---
Renewal Living
This process enlivens every aspect of our being, not just one part. Once we learn and understand how to engage our mind into renewal every day, we can come closer to a clear understanding of why we are here, what we are supposed to accomplish and what are our distinct gifts. Some people call it authentic living, which is accurate, but I call it Renewal Living because everything on this earth is a process. Renewal Living speaks to that process. Each day we discover new thoughts, new patterns, new dreams, new insights, new vision and new direction with slight turns in our road. We must choose to renew our minds toward these new discoveries, every day, to make or journey authentic; therefore, we must engage in Renewal Living to create an authentic life.
Vocal Health
When the reed of a clarinet is damaged, it can be replaced. When the vocal cords are damaged, you live with them for the rest of your life! We only get one set of vocal cords. Improper care of the voice can lead to permanent damage, and the damage can come in varying degrees. After abuse, many times the voice is still usable, but the quality is very raspy and the notes are difficult to produce. If you are ever hoarse from over-singing, you are putting your vocal cords at risk. Since I made that promise 30 years ago, I have not been hoarse from over-singing one time. A by-product of a cold or flu is sometimes hoarseness. This is different. If it is not from abuse, the vocal bands will heal. I had a very good friend who was in an elite choir with me. She was young and thought she was invincible. She really abused her voice one semester. After visiting the larynologist she found that she had nodules on her vocal cords. They tried to mend her problem with medication, but to no avail. They then removed the nodules by surgery and her voice was never the same. It is also very dangerous to use throat spray or lozenges that will deaden the pain. When there is pain, that is your body telling you that you are entering a danger zone. To deaden that pain is to completely ignore the body's warnings and this could render you a major problem.
The Tenacious Woman
The character, disposition and presentation of woman is MOST of the time misrepresented, both in the world's eyes and in the church's eyes. Since the beginning of time, woman was supposed to be strong, tender, powerful, kind and compassionate. Many times the world wants her to only represent the strong, powerful side of her nature and the church wants her to only represent the tender, kind and submissive side of her character. Neither of them are accurate. As is shown, not only in Proverbs 31, but in numerous other places throughout the Word, woman is a powerful individual, without taking on male characteristics.
Retirement Living
I have spent the last few years in Research and multi-level Employment in the Retirement Community Industry. My discoveries have been very enlightening and some quite disturbing. I now serve as a consultant for those who are ready to make a decision about retirement community living, leading them from the initial thought process to move-in day. My teaching and keynotes on this subject include a list of questions that everyone should ask before choosing a retirement community, and what the answers should be.
Books
---
Related Speakers View all
---
Tina Marie Jones

Connecting with the audience through the style of a ...

Mo Stegall

Global Brand Ambassador, Motivational Speaker, Bests...

Jean Bailey Robor

Jean Bailey Robor, award-winning author and inspirat...

Christi Tasker

Social Media Branding Queen and Keynote Speaker

Shawn Rene Zimmerman

Professional Fitness Model and Celebrity Trainer

Katie Schmatz

Ohh the Possibilities...

Lori La Bey

Driving Change How Caregiving is Perceived, Received...

Liz Nead

Executive Business & Life Coach

Adora Svitak

Author, Speaker, Youth Advocate & Child Welfare Prof...

Hypnotist The Incredible BORIS

Award-winning Motivational Hypnotist and Keynote Spe...

Andrea Raquel

Trained Broadcast Journalist / Marketing Pro & Exper...

Laura Stack

Productivity & Time Management Expert

Nicka Smith

genealogy. photography. and all the stuff in between.

Cathy Sexton - The Productivity Expert

Ignite Your Performance & Accelerate Your Results

Michael McCain

Awakening Millions To Their Potential -Author, Coach...

Lisa Van Allen

Executive Coach and Spiritual Director to Mission-Dr...

Dawnna St Louis

Uninhibited Action For Unprecedented Business Growth

Candace Reese

The CEO Pundit: Empowerment Speaker, Inspirational C...

Kathy Ireland

CEO & Chief Lifestyle Designer of Kathy Ireland Worl...

Eric Gnezda

Singer, Songwriter, Educator, Author, TV Producer & ...
More like Rita