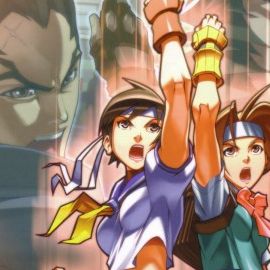 Rival Schools
Rival Schools are a post-hardcore band from New York, featuring Walter Schreifels on vocals and guitar; Ian Love on guitar; Cache Tolman on bass guitar; and Sam Siegler on drums.
Rival Schools are a post-hardcore band from New York, featuring Walter Schreifels on vocals and guitar; Ian Love on guitar; Cache Tolman on bass guitar; and Sam Siegler on drums.
Formed by Schreifels, frontman of the influential group Quicksand, Rival Schools were a hardcore 'supergroup' - its members being alumni of such '80s and '90s hardcore bands as Gorilla Biscuits (Schreifels), CIV (Siegler), Youth of Today (Schreifels and Siegler) and Iceburn (Tolman).
The band's name (and that of their only LP) comes from the Capcom fighting game, Rival Schools: United By Fate. In their short history, the band toured both the United Kingdom, supporting A, and the United States.
As of 2008, the band have reformed to play some live shows, including Soundwave in Australia, Rock Am Ring in Germany, Hove Festival in Norway, a headline tour and Download Festival in the United Kingdom. They have also been writing new material.
Rival School's first release was based around the concept of a series of EPs where multiple groups would come together to form a single band. For this, they teamed up with former Far leadman, Jonah Matranga. The lone result of this experiment was titled Rival Schools United by Onelinedrawing, released on 24 July 2001 by Schreifels' Some Records.
Their full-length album, United by Fate, was produced by the Grammy-nominated Luke Ebbin and released on 28 August 2001. Due to obligations from Schreifels' time with Quicksand, the album was released by Island Records. Two songs from the album saw release as singles: "Used for Glue" closely followed the album's release, with "Good Things" coming later. Both songs enjoyed heavy rotation on MTV in the US and UK.
The band went down when member Ian Love left the band in 2002. In between touring with the band, he'd formed Cardia and eventually left to focus on them. Regardless, a second album was expected for Spring/Summer 2003, but never surfaced commercially (the master tapes, comprising 11 songs, were later leaked onto the Internet). The rest of the band parted ways in September 2003: Schreifels went on to form Walking Concert; Love recorded a self-titled solo album in 2006, released on Limekiln Records; Tolman went on play with Institute; and Siegler joined Nightmare of You and briefly provided percussion for Limp Bizkit.
Despite the band's dissolution, rumours persisted that a new Rival Schools album would be released. This album would presumably be the never-released second LP, however other suggestions have been of an album of B-sides and unreleased songs or of an album of new material, performed by a reformed Rival Schools. Schreifels himself mentioned the likelihood of a new album, with it being mooted for late 2006, although it is yet to surface. The "unreleased 2nd album" has been widely available for some time on the file-sharing network Soulseek, and is composed of a collection of B-sides and unreleased material.
On April 9, 2008 the German Rock am Ring & Rock im Park rock music festivals announced that Rival Schools would perform at the festival on June 8, 2008. The band also played the second stage of the Download Festival in Donington Park, UK on the same day Kiss headlined. The band advertised a 5 date UK tour in Kerrang! Magazine (7 May 2008), and set up an official Myspace page, on which Schreifels revealed the band were writing new material. New songs aired at the UK dates have included 'Big Waves', 'Paranoid Detective', 'On the Frey' and 'Sophia Lauren'. Rival Schools is scheduled to play at the Fun Fun Fun Festival in Austin, TX in November, and then at the Soundwave festival  in February, 2009. On January 24, 2009 the band announced on their MySpace that they were entering the studio to start recording their as yet untitled new album. In August 2009, they played the UK Reading & Leeds festivals on the 'Lock Up' stage alongside Mad Caddies, The Bronx and Rise Against. Rival Schools also supported The Offspring at their UK shows.
On February 10, 2010 they confirmed that their new album would be out in summer of 2010. This has been pushed back until March 2011, according to the band's official MySpace page.
Related Speakers View all
---
David Birch

David Birch is a digital money and ID consultant pav...

Ruby Bridges

Civil Rights Activist & First African-American Child...

Andrew O'Brien

Suicide Survivor & Preventer, Army Veteran, Founder ...

Diego Ugalde

Retired Navy SEAL, CEO & Founder of The Trident Appr...

Tom Voss

U.S. Army Combat Veteran, Mental Health & Holistic H...

Brad Snyder

Two-Time Paralympic Gold Medalist Swimmer & Navy Vet...

John Mcguire

Navy SEAL, CEO & Founder of SEAL Team Physical Train...

Larry Whiteside Jr.

Veteran, Cybersecurity Executive, Diversity Champion

Mark Geist

Co Author of "13 Hours", Member of Benghazi Annex Se...

Ed Hiner

Retired U.S. Navy SEAL, Best-Selling Author & Leader...

Alek Skarlatos

France Train Hero & Legion of Honour Recipient; Danc...

Shoshana Johnson

First African American Woman POW in U.S. War History

William Wagasy

Special Operations Chief for the U.S. Navy, Former L...

Huma Abidi

Engineering Director of the Artificial Intelligence ...

Liz Nead

Executive Business & Life Coach

Nicole Yeary

Founder & CEO of Ms.Tech

Bruno Bowden

Equity Partner at Data Collective; Former Engineerin...

Jason Young

Former Senior-Level Manager at Southwest Airlines & ...

Alex Salkever

Futurist, Author of "The Driver in the Driverless Ca...

Jana Eggers

CEO of NaraLogics; Innovation & AI Expert
More like Rival