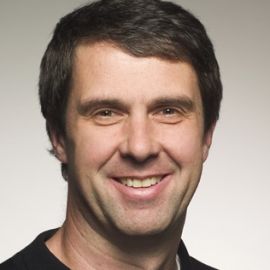 The business mind behind the groundbreaking game console Xbox, Robbie Bach is a highly innovative and successful business leader who is an inspiration to aspiring entrepreneurs in the technology and video gaming industry. Currently writing a business and civic strategy book based on his Microsoft and Xbox experiences, Bach joined the renowned company in 1988. Over the next 22 years, he worked in various marketing and management roles, leading teams involved in creating many of the computer programs we use today. In the early 1990's, he played an important role as a marketing leader in the successful launch and expansion of the Microsoft Office business. Beginning in 1999, as Chief Xbox Officer, he led the development of the Xbox business, including the launch of the original Xbox and the highly successful follow-on product, Xbox 360. Bach was President of the Entertainment and Devices Division when he left Microsoft in 2010.
In addition to his illustrious career at Microsoft, Bach is a dedicated community leader. He serves on the national board of governors for the Boys and Girls Clubs of America and was the chairman of the board from 2009-10. In 2011, he joined the US Olympic Committee board of directors, the board of directors for Sonos Inc., the board of advisors for Brooks Sports Inc., and the board of advisors for Space Needle, Inc. He is also a board member for the Seattle chapter of Year-Up, a youth training non-profit organization.
Bach received an MBA from Stanford University, where he was an Arjay Miller Scholar. He also has a bachelor's degree in economics from the University of North Carolina, where he was a Morehead Scholar, graduated with highest honors and was named a first team Academic All-American on the Tar Heel's tennis team.
In his 22 years at Microsoft, Bach gave hundreds of speeches to audiences small and large, all around the world. His topics ranged from product launches to team motivational events to lectures on marketing, leadership and people management. He has keynoted major presentations at E3, the world's largest video game conference, on eight different occasions, and co-keynoted the Consumer Electronics show twice with Bill Gates and twice with Steve Ballmer. Since his retirement, he has continued speaking at technology events, on college campuses and for non-profit organizations. Bach places an emphasis on strategy, marketing and business ethics in his speeches, providing tools applicable to all audiences.
Speech Topics
---
Purpose, Principles, Priorities: The 3P Strategic Framework
Based on his experiences at Microsoft and his consulting practice, Bach has developed the 3P Strategic Framework, which he applies to problems in business, government and personal life. In this speech, he explores the framework, provides relevant stories and applications, and describes how any leader or business can use this process to plan for success. He demonstrates how focusing on Purpose, Principles and Priorities provides a simple, yet effective rubric to attack even the most complex problems.
The Xbox Story: Lessons in Strategy, Team Management and Intrapreneurship
The Xbox saga – from garage-shop inception, through numerous crises and challenges, to ultimate business success – is a multi-faceted tale with several captivating story lines. Speaking from the viewpoint of the Chief Xbox Officer ("CXO"), Bach tells a story about the triumph of a strategic process that brought together a disparate group of talented individuals. As they transformed into a powerful team, they applied Intrapreneurship principles to build a successful consumer business within the larger Microsoft structure.
Heads on Mount Rushmore: A Monument to Leadership Principles
Bach has been in leadership positions his entire life, including in sports, business and charitable organizations. He understands the opportunities, challenges and loneliness of being the final decision-maker on issues large and small. He speaks about both successes and failures in directing teams. Based on personal and historical experiences, he has developed a set of principles that help a leader to gain the respect and support of his or her team, make better decisions and improve the health of the organization.
Civic Engineering: A Common Sense Strategy for Fixing America
Since his departure from Microsoft, Bach has been researching and writing a book on applying the management and strategic lessons he learned in business to the deep, troubling problems he sees across America. In this speech, he explores how we can all be "civic engineers" to influence, shape and change the course of our country in a more positive direction. His approach is neither Democratic nor Republican, but instead, it takes a common sense view of what is in the best interests of our country and paints a picture that is independent of most orthodoxy and doctrine.
Faith, Perseverance and Serendipity: Pillars for Business and Personal Success
Bach has developed core beliefs that have sustained him through the ups and downs of his personal and professional career. In this talk, he speaks openly about lessons he has learned as an employee, leader, friend, husband and father. Delving into areas that are deeply personal, and often emotional, he discusses his frequent insecurities, biggest failings and most challenging family issues. He provides an intimate view of the struggles and triumphs of a chief executive who was growing into his job in the midst of difficult fire – from "friends" and competitors alike – during the creation of Xbox.
Related Speakers View all
---
Sam Geist

Consultant / Facilitator

Dr. Nido Qubein

Consultant / Award-winning Speaker

Howard Putnam

Former CEO of Southwest Airlines

Nicholas de Wolff

Digital Media & Brand Strategy Wonk | Economic & Soc...

Josh Linkner

Best-Selling Author, World-Class Entrepreneur & Foun...

Afterburner

US Fighter Pilots & Corporate Teambuilding Speakers

Jim McCann

President & CEO of 1-800-FLOWERS.COM

Daymond John

Founder & CEO of FUBU; Presidential Ambassador for G...

Clyde Fessler

Former VP of Business Development, Harley-Davidson M...

Keith Ferrazzi

CEO, Ferrazzi Greenlight / Best-Selling Author

Ryan Estis

Business Performance Expert & Agent of Change

Barbara Corcoran

Real Estate Entrepreneur & Mogul, Angel Investor, Co...

Joe Calloway

Business Author, Performance Consultant and Restaura...

Michael Ober

Director, Merchant Development, Yahoo Merchant Solut...

Alaa Hassan

Vice President, iNetVideo.com

Sahar Hashemi

Entrepreneur & Founder of Coffee Republic and Skinny...

Gillian Muessig

Thought Leader in Global Entrepreneurship

Jeff Brown

Leading Performance & Leadership Authority

Jerry Fletcher

Jerry is the CEO of Z-axis Marketing, Inc.

Candace Reese

The CEO Pundit: Empowerment Speaker, Inspirational C...
More like Robbie