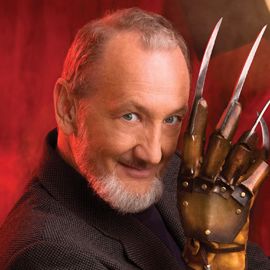 Robert Englund
Best Known for the Role of Serial Killer Freddy Krueger in the "Nightmare on Elm Street" Film Series
Wanting a feature film debut, Robert Englund was briefly considered for the part of Han Solo in the 1977 film "Star Wars" while visiting his close friend, Mark Hamill, who would later be cast in the film as Luke Skywalker, for which role Englund actually auditioned. Englund's first film wound up being "Eaten Alive." He then acted out Ranger in "Galaxy of Terror," produced by Roger Corman, which was released in 1981. Since then, Englund has made over 100 appearances on film and television.
His early film roles usually typed him as a nerd or a redneck, and he first gained attention in the role of Willie, the lovably innocent alien in the 1983 miniseries "V," as well as the 1984 sequel "V: The Final Battle" and "V: The Series," in which he was a regular cast member.
But after such typecasting, Englund acted out a role jarringly against type: the psychotic burn victim and child murderer Freddy Krueger in Wes Craven's 1984 hugely successful "A Nightmare on Elm Street." This role catapulted him to nationally syndicated fame, and Englund became the first new horror movie star since Sir Christopher Lee and Peter Cushing in the 1960s. His association with the genre led him to top-billed roles in "The Phantom of the Opera," "The Mangler" and "2001 Maniacs."
Englund is one of only two actors to act out a horror character eight consecutive times, the other being Doug Bradley, who portrayed the Pinhead character eight times in the Hellraiser film series.
Englund has said that he enjoys the role of Freddy as it gives him a break from always acting out the nice guy; indeed, many people who have worked with Englund attest to his congeniality. Makeup artists responsible for the Krueger makeup have commented that Englund was so friendly and talkative that it made the lengthy makeup application slightly more challenging.
Englund's TV appearances include starring in the short-lived series "Nightmare Cafe," in which he played Blackie, the mysterious proprietor of the title cafe, and reprising his role of "Freddy Krueger" or "Fred Krueger" in the series Freddy's Nightmares. His guest roles include the science fiction series "Babylon 5," one episode of the show "MacGyver" as Tim Wexler, "Masters of Horror," "MadTV," "Sliders" and "Knight Rider," where he appeared as a phantom haunting a film studio, and "Walking Tall: The Series" as well as a guest star spot on the hit TV show "Walker, Texas Ranger."
His memoir, "Hollywood Monster: A Walk Down Elm Street with the Man of Your Dreams," which Alan Goldsher transcribed from his dictations, was published by Pocket Books on October 13, 2009.
Although the character of Freddy Krueger is regarded as one of the most terrifying in cinema history, Englund is often described by fellow actors and film crews as being extremely friendly and appreciative of his fans, many admitting that his portrayal of Krueger legitimately frightened them as children.
Related Speakers View all
---
Michael Ironside

Actor, Voice Actor, Producer, Film Director and Scre...

Anya Taylor-Joy

Argentinian-American Actress; Best Known For "The Wi...

Bill Skarsgård

Actor & Producer

Anthony Mackie

American Actor & Film Producer, Known for "Captain A...

Bill Moseley

Cult Classic Horror Film Star; "The Devil's Rejects"...

Michael Dixon

Michael Dixon is a venture capitalist at Sequoia Cap...

Chloe Dykstra

Chloe Dykstra /

Marc Singer

Marc Singer Director, San Francisco Office McKinsey ...

Sean Astin

Actor, Director, Voice Artist & Producer Known For "...

Chris Evans

Actor Most Known for His Superhero Roles as Human To...

Monica Keena
Jennifer Morrison

Actress, Model & Film Producer; Known For "House" an...

Andrew Garfield

Actor; Known for "The Amazing Spider-Man" and "The S...

Mark L. Young

TV & Film Actor Known for "We're the Millers"

Sue Obeidi

Director of the Hollywood Bureau for the Muslim Publ...

Rob Morgan

Award-Winning Actor Known for "Daredevil," "Jessica ...

Jimmie Fails

Actor & Filmmaker Best Known for "The Last Black Man...

James Lee Hernandez

Writer, Producer & Director

Carlos López Estrada

Film Director

Lawrence Michael Levine

Director & Screenwriter
More like Robert