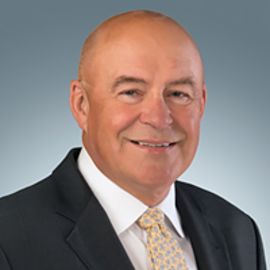 Dr. Robert T. Fraley
Former Executive Vice President and Chief Technology Officer, Monsanto
Dr. Robert Fraley was Executive Vice President and Chief Technology Officer of Monsanto Company until his retirement in 2018, where he lead a team of agricultural scientists dedicated to developing seeds and solutions that help farmers around the world yield a more abundant, affordable, and sustainable food supply. In this role, he oversaw teams of researchers focused on plant breeding, plant biotechnology, ag biologicals, ag microbials, precision agriculture, and crop protection innovations that will help to feed our growing population.
Robb's interest in the intersection of technology and agriculture began at an early age while growing up on his family's farm in central Illinois. Often recognized as the father of agricultural biotechnology, he developed the first genetically modified organisms (GMOs) in the early 1980s as a solution for farmers battling pests and weeds that threatened their yields.
During his 35-year tenure with Monsanto, Robb has held several leadership roles within the company, including Co-President of Monsanto's agricultural sector, Group Vice President and General Manager of the New Products Division, Vice President of Technology for Crop Chemical and Plant Biotechnology R&D and Senior Research Specialist.
A resident of St. Louis, Robb is involved in several local and international agriculture organizations. Fraley's honors include World Food Prize Laureate (2013), National Medal of Technology from President Clinton (1998), National Academy of Sciences Award for the Industrial Application of Science for his work on crop improvement (2008), among others.
Robb holds a Bachelor of Science and a Ph.D. in microbiology/biochemistry from the University of Illinois, an executive degree in business management from Northwestern University, and was a Biophysics postdoctoral fellow at the University of California – San Francisco.
Videos
---
Related Speakers View all
---
Joanne Chory

Professor & Director of the Plant Molecular & Cellul...

Pamela Ronald

Scientist, Professor of Plant Pathology at the Unive...

Mariana Vasconcelos

Co-founder & CEO of Agrosmart, Providing Agriculture...

Mike Stern

Chief Executive Officer, Climate Corporation (Monsanto)

Caleb Harper

Principal Research Scientist at MIT Media Lab; Found...

Jason Brown

Football Player Who Left the NFL to Farm and Harvest...

Will Allen

Pioneer in the Urban Farming Movement, Author & Foun...

Glenn Roberts

Wheat and Rice Farmer; Owner of Anson Mills

Donna Kilpatrick

Heifer Ranch Livestock Manager

Su Kahumbu

Agriculturalist, Social Entrepreneur & Founder of iCow

Brandon David Lewis Marshall

Associate Professor of Epidemiology at Brown University

Ofer Levy

Infectious Disease Specialist

Shekinah Elmore

Oncologist; Dedicated to Pursuing Equity & Empathy i...

Nadya Mason

Professor of Condensed Matter Physics at the Univers...

Tracey Goldstein

Virologist, Associate Director of One Health Institu...

Sarah Frey

Author & Owner of Frey Farms

Robert Schiestl, PhD

Professor of Pathology & Environmental Health Scienc...

Alan Aderem, PhD

Biologist; Co-Founder of the Institute for Systems B...

Arlene Sharpe

Professor & Chair of the Department of Immunology at...

Joao Pereira, PhD

Associate Professor of Immunobiology, Yale School of...
More like Dr.