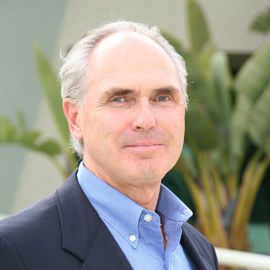 Robert "Bob" Gates is a Managing Partner of Windstreams Properties, LLC which owns and operates one of the first commercial wind projects in the Tehachapi Pass. During his career Gates has participated in the financing of over $7.5 Billion worth of wind energy installations. Gates is one of the pioneers of the wind industry, having begun the commercial wind energy element of Zond Systems, Inc. ("Zond") in 1981. Zond grew to be the largest wind energy development company in the world by the mid 1990s. In addition to site development, Zond developed wind turbine technology, including the manufacture of the largest American made turbines of their era.
Gates' served as Vice President of Commercial Operations for Clipper Wind Power, including North American sales from 2006 to 2013.
Prior to joining Clipper, Gates served in a senior position within GE Energy's wind energy segment, with responsibilities spanning wind power project development, wind turbine sales, and related activities in government and regulatory, construction and operations. Under his sales leadership, GE became one of the world's most prominent wind turbine suppliers.
Gates' leadership in the global wind industry extends from the pioneering era in the early 1980's, when, as a principal and senior manager of Zond Systems, the company grew to become a leading wind power project developer and wind turbine manufacturer. Gates' senior management role continued through Zond's strategic and proactive acquisition by Enron in 1997, and the subsequent acquisition of the company's wind turbine technology by GE in 2002.
Gates has served as a member of the board of the American Wind Energy Association since the outset of the U.S. wind energy industry in the early 1980's, and the organization's president in 1999-2000, and again in 2007-2008. Gates's industry participation includes serving on the board of the American Wind Energy Association , including two terms as Chairman of the Board, the Kern Wind Energy Association, and the California Wind Energy Association.
Videos
---
Related Speakers View all
---
Andy Serwer

Managing Editor, Fortune Magazine

Nicole Röttmer

Founder & CEO of The CO-Firm

Suzanne DiBianca

Executive Vice President of Corporate Relations and ...

Clarence Otis Jr.

Director of Verizon Inc., Former Chairman & Chief Ex...

Poppy Harlow

Anchor on "CNN Newsroom"

Andrew Savitz

Author, Speaker & Creative Advisor

Tim Sanders

Bestselling Author, Technology Pioneer, Expert on Co...

Ambassador Dennis Ross

Author, Counselor & William Davidson Distinguished F...

Peter Diamandis

Founder & Executive Chairman of the XPRIZE Foundatio...

Geoff Colvin

Editor & Columnist at Fortune Magazine; Author of "H...

Ben Caldecott

Founding Director of the Oxford Sustainable Finance ...

Markus Mutz

CEO of OpenSC, An Impact Venture Trying to Make More...

Tarun Jami

Co-Founder of GreenJams Infrastructures; Expert in I...

Tim Brooks

Vice President of Corporate Responsibility at LEGO G...

Mark Vergnano

President & CEO of Chemours

Rick Cook

Founding Principal, COOKFOX Architects

Kevin Cronin

Vice-President, Sustainability and Research & Develo...

Keefe Harrison

Chief Executive Officer, The Recycling Partnership

Christopher Davis

International Director of Corporate Social Responsib...

Sivan Ya'ari

Founder and CEO, Innovation Africa
More like Robert