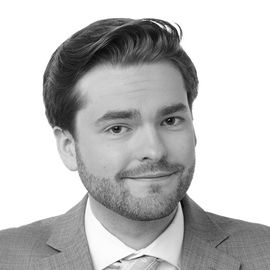 Robert Hackett
Senior Writer at Fortune; Co-Founding Editor of The Ledger, Fortune's Fintech Franchise; Co-chair of the Brainstorm Finance Conference
Robert Hackett is a Senior Writer at Fortune where he covers business, technology, cybersecurity, fintech, science, and more.
Robert is a founding co-chair of the Brainstorm Finance conference in Montauk, N.Y. He is a co-founding editor of The Ledger, Fortune's fintech franchise. He created and writes Cyber Saturday, the weekend edition of Fortune's tech newsletter, and he co-hosts two video series, Tech Debate and Balancing The Ledger.
Robert was named a finalist for the 2018 Larry Birger Young Business Journalist Award. He received honors in the technology category for the 2017 SABEW Best in Business Awards. He also worked as a research assistant on Fortune's 2016 Gerald Loeb Award-nominated investigation into North Korea's cyberattack on Sony Pictures.
Robert has written cover stories on Bitcoin and blockchain tech. He has profiled diverse subjects, including prosecutor-turned-investor Kathryn Haun, Ethereum creator Vitalik Buterin, Google's elite Project Zero hackers, and the Khosrowshahi dynasty. He wrote the foreword to the 2018 Time book, Cybersecurity, Hacking, the Dark Web and You.
Robert has moderated sessions at Brainstorm Tech in Aspen, SXSW in Austin, Web Summit in Lisbon, CES and Money2020 in Las Vegas, DLD Conference in Munich, RSA Conference in San Francisco, and Consensus in New York. He has appeared as a guest on WNYC's Brian Lehrer Show, Fox 5 NY, Chicago's WGN Radio, Cheddar, and elsewhere.
Prior to joining Fortune in 2014, Robert worked at Nautilus magazine, TED Conferences, and Johnson & Johnson. He studied chemistry & chemical biology and English with minors in science & technology studies and history at Cornell University. He earned a master's degree from Columbia Journalism School.
Videos
---