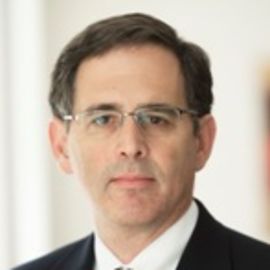 Robert Kahn
Steven A. Tananbaum Senior Fellow for International Economics
Robert Kahn is the Steven A. Tananbaum senior fellow for international economics at the Council on Foreign Relations (CFR) in Washington, D.C. Dr. Kahn has held positions in the public and private sectors, with an expertise in macroeconomic policy, finance and crisis resolution.
Prior to joining CFR, Dr. Kahn was a senior strategist with Moore Capital Management, where his portfolio spanned G-7 monetary and fiscal policy, regulatory reform, debt policy and debt workouts, and the crisis in Europe. Prior to that, he was a senior adviser in the financial policy department at the World Bank, where he focused on financial sector assessments for developing economies and was the Bank's liaison to the secretariat of the Financial Stability Forum.
Dr. Kahn also held staff positions at the International Monetary Fund (IMF), where he worked on public policy and the resolution of debt crises in emerging markets. He was a member of the IMF team that worked closely with Korean authorities in 1997-98 to develop a system for comprehensive monitoring and reporting of external debt and reserves, and subsequently was involved in development of the Fund's policy for private sector involvement in crisis resolution.
Dr. Kahn has held various senior-level positions at Citigroup and was the managing director and head of the sovereign advisory group. He served as the head of the Office of Industrial Nations at the U.S. Treasury from 1995 to 1996. He was also a senior economist at the Council of Economic Advisers from 1990 to 1991, as well as the Federal Reserve Board from 1984 to 1990 and 1991 to 1992.
Dr. Kahn received his BA from the University of Chicago and his PhD from the Massachusetts Institute of Technology.
Videos
---