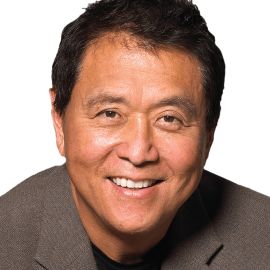 Robert Kiyosaki is the author of Rich Dad, Poor Dad. An international bestseller; it explains what the rich teach their children about money, that the poor and middle class do not. "The main reason people struggle financially is because they spent years in school but learned nothing about money. The result is, people learn to work for money...but never learn to have money work for them," says Kiyosaki. His most recent book, Why We Want You To Be Rich was co-authored with Donald Trump.
Born and raised in Hawaii, Kiyosaki is fourth-generation Japanese American. He comes from a prominent family of educators. His father was the head of education for the State of Hawaii. After high school, Kiyosaki was educated in New York and upon graduation, he joined the U. S. Marine Corps and went to Vietnam as an officer and a helicopter gunship pilot.
Returning from the war, Kiyosaki's business career began. In 1977 he founded a company that brought to the market the first nylon and Velcro "surfer" wallets, which grew into a multi-million dollar worldwide product. He and his products were featured in Runner's World, Gentleman's Quarterly, Success magazine, Newsweek, and even Playboy.
Leaving the business world, he co-founded in 1985, an international education company that operated in seven countries, teaching business and investing to tens of thousands of graduates. His yearlong television show was beamed across America on the Nostalgia Network, carrying his educational message.
Concerned about the growing gap between the "haves" and "have-nots", Kiyosaki created the game board CASHFLOW, which teaches the game of money, here before only known by the rich. Kiyosaki also publishes a monthly newsletter.
Although Kiyosaki's business is real estate and developing small cap companies, his true love and passion is teaching. He has shared the speaking stage with such greats as Og Mandino, Zig Ziglar, and Anthony Robbins. Kiyosaki's message is clear, "Take responsibility for your finances or take orders all your life. You're either a master of money or a slave to it."
Speech Topics
---
Rich Dad, Poor Dad
Modeled after his award-winning book, Rich Dad, Poor Dad, Kiyosaki delivers a keynote speech that will help reshape the way you think about what you do with your money. You will be able to evaluate your own thoughts and habits surrounding money, and determine what you will need to do differently to accumulate wealth.
Kiyosaki helps audiences understand that rich people are rich because they buy assets that produce income. Poor people are poor because they accumulate liabilities and expenses. In order to become wealthy, you must spend money to accumulate income producing assets such as real estate, businesses, stocks and bonds.
Why We Want You To Be Rich