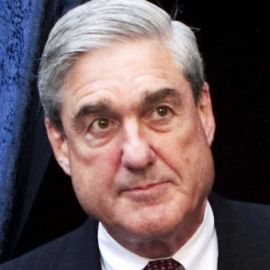 Robert S. Mueller, III is a partner at WilmerHale in Washington, DC, where his practice focuses on investigations, crisis management, privacy, and cyber security work.
Mr. Mueller served as the sixth Director of the FBI from September 2001 to September 2013. He was nominated by President George W. Bush and was sworn in as Director on September 4, 2001 – just one week before 9/11.
His ten-year term was extended for an additional two years at the request of President Barack Obama and pursuant to legislation passed by Congress.
Born in New York City, Mr. Mueller grew up outside of Philadelphia. He graduated from Princeton University in 1966 and later earned a master's degree in International Relations at New York University in 1967.
After college, he joined the United States Marine Corps, where he served as an officer for three years, leading a rifle platoon of the Third Marine Division in Vietnam. He is the recipient of the Bronze Star, two Navy Commendation Medals, the Purple Heart and the Vietnamese Cross of Gallantry.
Following his military service, Mr. Mueller earned a law degree from the University of Virginia Law School in 1973 and served on the Law Review.
After completing his education, Mr. Mueller worked as a litigator in San Francisco until 1976. He then served for 12 years in the United States Attorney's Offices, first in the Northern District of California in San Francisco, where he rose to be chief of its' criminal division. In 1982, he moved to Boston as an Assistant United States Attorney where he investigated and prosecuted major financial fraud, terrorist and public corruption cases, as well as narcotics conspiracies and international money launderers.
After serving as a partner at the Boston law firm of Hill and Barlow, Mr. Mueller returned to public service. In 1989 he served in the United States Department of Justice as an assistant to Attorney General Richard L. Thornburgh. The following year he took charge of its Criminal Division. During his tenure, he oversaw prosecutions including the conviction of Panama leader Manuel Noriega, the Lockerbie Pan Am 103 bombing case and the John Gotti mobster prosecution. In 1991, he was elected Fellow of the American College of Trial Lawyers.
In 1993, Mr. Mueller became a partner at Boston's Hale and Dorr, specializing in complex white collar crime litigation. He returned to public service in 1995 as senior litigator in the Homicide Section of the District of Columbia United States Attorney's Office. In 1998, Mr. Mueller was named United States Attorney in San Francisco and held that position until 2001. He then served as Acting Deputy Attorney General of the United States Department of Justice for several months before becoming FBI Director.
Videos
---
Speech Topics
---
National Security and Counterterrorism
Serving as FBI director during a critical time in our nation's history—with his tenure beginning one week before the 9-11 terrorist attacks and spanning two administrations, Robert S. Mueller was a key influencer in shaping our nation's intelligence operations for decades to come. Mueller shares with audiences critical insights on national security, cyber security, counterterrorism and the challenges and solutions that lie ahead in keeping our great nation safe.
The Growing Cyber Security Threat
Cybercrime is a very real and perilous threat—one that, according to former FBI Director Robert S. Mueller, "equals or even eclipses the terrorist threat." Digital enemies threaten economies, ideas, innovation and safety. While there is no way to eliminate all vulnerabilities, focusing our sights on human intelligence is key per Mueller as "behind every intrusion is a person responsible…a warm body behind the keyboard, whether he or she sits in Tehran or Tucson; Shanghai or Seattle; Bucharest or the Bronx." He discusses with audiences how and why cyber threats have become so ubiquitous and what can be done by the public and private sectors to prevent these intrusions and limit their damage. From devising an action plan that is effective for all circumstances to engaging in joint ventures such as the National Cyber Investigative Joint Task Force, InfraGard and the Domestic Security Alliance Council, Mueller provides valuable insight on the significance of information sharing and collaboration and how fusing private-sector information with information from the intelligence agencies will continue to benefit us all and make the world a safer place.
Leading Transformation in Any Organization
Beginning his tenure as FBI director just one week before the September 11, 2001 terror attacks, Robert S. Mueller faced the challenge of leading an organization from one that was focused on domestic crime-fighting to one that is threat focused and intelligence driven at a time when the nation was recovering from the largest terrorist attack on U.S. soil and fearing the next possible attack. The results included a historic paradigm shift at the FBI from reactive to proactive. Changes included a complete overhaul of the FBI's Washington headquarters and Counterterrorism Division, doubling the number of agents and the establishment of the National Security Branch, the Directorate of Intelligence and a Cyber Division. In this keynote presentation, Mueller shares his experience leading change across the U.S.'s top law enforcement and counterintelligence agency and lessons every organization can use to create and sustain transformation in the 21st century.
Leadership in the 21st Century
With the backdrop of a distinguished career as the director of the FBI for Presidents George W. Bush and Barack Obama, numerous top criminal justice positions in both the private and public sectors, including U.S. Attorney for the Northern District of California and Acting Deputy Attorney General for the Department of Justice and serving as an officer in the Marine Corps, Robert S. Mueller shares with audiences what it takes to be an effective leader and the core principles that are crucial to the success of any organization.