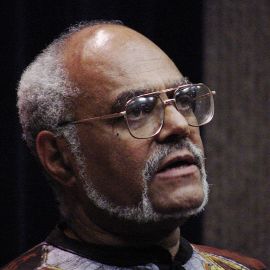 Though he avoided publicity and rarely spoke to large audiences, Robert Parris Moses became one of the most influential black leaders of the Southern civil rights struggle and of the New Left during the 1960s. Born on January 23, 1935, in New York City, Moses spent his early years in a public housing project near the Harlem River. In 1952 he graduated from Stuyvesant High School and won a scholarship to Hamilton College. He earned an M.A. degree in philosophy in 1957 at Harvard University. Forced to leave college by the death of his mother and the hospitalization of his father, he returned to New York and became a mathematics teacher at Horace Mann School.
During the late 1950s Moses became increasingly active in the nascent black protest movement. In 1958 he helped veteran black activist Bayard Rustin (q.v.) with the Second Youth March for Integrated Schools, and in the summer of 1960, at Rustin's suggestion, he went to Atlanta to work with Martin Luther King's Southern Christian Leadership Conference (SCLC). Moses left Atlanta to seek participants for the fall conference of a new organization, the Student Nonviolent Coordinating Committee (SNCC), that Ella Baker, onetime executive secretary of SCLC had helped to found.
Moses returned to Mississippi in 1961 to become the head of SNCC's project in McComb and ultimately director for the Council of Federated Organizations (COFO), a federation of civil rights groups in the state. Seeking to develop leadership among poorly educated blacks at the bottom of the Southern social order, he influenced civil rights activists searching for alternatives to hierarchical and manipulative political modes. Moses' goal was to develop self-reliant organizations and leaders who could continue the struggle after organizers had departed. His fear that others would become dependent on his leadership led Moses and his wife, Donna Richards, to leave Mississippi after the massive 1964 summer project.
Temporarily changing his name to Bob Parris, he participated in several rallies against the Vietnam War, but by the end of 1965 Moses had ended his relations with white activists. After separating from his wife in 1966, he went to Canada to avoid the military draft. In June 1968 Moses and his new wife settled in Tanzania. They returned to the United States with their four children in 1976. Avoiding public attention, Moses resumed his graduate studies in philosophy at Harvard and in 1982 received a MacArthur Foundation award to continue his studies.
In the 1980s, Moses founded The Algebra Project, a national, nonprofit organization that uses mathematics as an organizing tool to ensure quality public school education for every child in America.
Related Speakers View all
---
Nikki Giovanni

Poet, Educator & Best-Selling Author

Ruby Bridges

Civil Rights Activist & First African-American Child...

Bakari Sellers

Author, Attorney, Political Commentator & Youngest A...

Dr. Marc Lamont Hill

Temple University Professor, BET News Correspondent,...

DeRay Mckesson

Civil Rights Activist & Host of "Pod Save The People"

Janet Mock

Author, Feminist, Transgender Rights Activist, TV H...

Nontombi Naomi Tutu

Race, Gender & Human Rights Activist; Daughter of De...

Magic Johnson

Basketball Hall of Famer, Entrepreneur, Philanthropi...

Rebecca Walker

Bestselling Author & Founder of the Third Wave Femin...

Judge Greg Mathis

Civil Rights Activist, Television Personality

Lisa Leslie

WNBA Champion, Olympic Gold Medalist & Author of "Do...

Spike Lee

Academy Award-Winning Writer, Producer, Actor & Dire...

Marian Wright Edelman

Founder & President of the Children's Defense Fund

Jonah Edelman

Advocate for Public Education, CEO of Stand for Chil...

Mary Frances Berry

Professor, Author & Historian; Former Chairperson of...

Brittany Packnett Cunningham

Activist, Educator, Writer & MSNBC Contributor

Lamman Rucker

Actor, Education Activist, Green Living Advocate & E...

Chris Mburu

Human Rights Activist

Dr. Tererai Trent

Internationally Recognized Voices for Quality Educat...

Maria M. Klawe

Renowned Mathematician, Computer Scientist & Scholar...
More like Robert