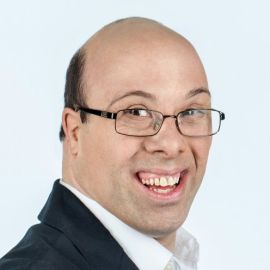 Robert Pio Hajjar
"Transformative" Motivational Speaker, Author of "I Love My Life" & Co-Founder of Ideal Way
Robert Pio Hajjar was born to be a Champion and is dedicated to his calling. A gifted, charismatic speaker, he makes a difference in the world by celebrating life in a way that motivates others to realize their dreams. His dream is of an inclusive society that recognizes the diverse talents and abilities of all members, and values difference as a resource that enriches the whole. He believes love, encouragement and opportunity bring out the best in an individual, which in turn builds a stronger society and a better world.
Travelling widely, Pio spreads his message of hope and inspiration. He has presented "I Can, YOU Can" to more than 500,000 people in 100 cities throughout North America. Listening to him, you understand the importance of making the most of your life, regardless of obstacles imposed by the misinformed. He inspired the I Can, YOU Can Program that is being rolled out by schools in Southwestern Ontario and is quick to point out, "The cards that were dealt to me in life are not as important as how I play them. I love my life." He plays his hand like a true champion, raising his voice against the injustice of exclusion, advocating for those who cannot speak for themselves.
There have been many remarkable accomplishments along the way. A competitive swimmer with gold medals 2015 and 2016; qualifier Special Olympics 2017 and 2018; Founder of Ideal Way, a charity to help persons differently abled; keynote speaker/emcee at major Conferences throughout Canada and US; Pio's first book, "I LOVE MY LIFE", with foreword by the great Jean Vanier is available. More remarkable than his accomplishments, is the person he is.
Pio loves public speaking and starts all such engagements with dance. Dancing, his great sense of humour and his dynamic personality are part of the infectious energy that make his presentations unforgettable and transformational. He takes his calling seriously and implements God's plan with joy, laughter and love. His deep commitment keeps him out there, raising awareness and showing that inclusion of the differently abled enriches the human experience for us all.
Videos
---