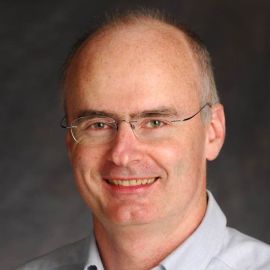 Robert Schiestl, PhD
Professor of Pathology & Environmental Health Sciences at UCLA
Dr. Robert Schiestl is a Professor of Pathology, Environmental Health and Radiation Oncology. He received his Ph.D. in Biology and Genetics from the University of Vienna, Austria, in 1983.
He is Director of the UCLA Center for Environmental Genomics and a current member of the UCLA Cancer Center, UCLA Center of Occupational and Environmental Health, UCLA Interdepartmental Program in Molecular Toxicology (Faculty Advisory Committee), and UCLA ACCESS Graduate Program steering committee.
Schiestl was voted best professional in Pathology and Cancer Research of 2014 "for his cutting-edge work in cancer research, genetic instability, DNA repair, bone marrow transplantation and cancer prevention" among 1200 contenders by the Who is Who. He also received best professional of 2015 by the American Registry of Outstanding Professionals.
Previously, he served as Assistant and Associate Professor in the Department of Cancer Cell Biology at the Harvard School of Public Health.
Videos
---
Related Speakers View all
---
Alan Aderem, PhD

Biologist; Co-Founder of the Institute for Systems B...

Kai W. Wucherpfennig, MD, PhD

Professor, Microbiology and Immunobiology, Harvard M...

Tracey Goldstein

Virologist, Associate Director of One Health Institu...

Joao Pereira, PhD

Associate Professor of Immunobiology, Yale School of...

Jennifer Lund, PhD

Immunobiologist; Assistant Professor, Department of ...

Kaitlyn Sadtler

Immunologist & Regenerative Medicine Researcher; Chi...

Tasuko Honjo

Japanese Immunologist; Professor Emeritus at Kyoto U...

Arlene Sharpe

Professor & Chair of the Department of Immunology at...

Mehmet Sen

Cell Adhesion Biologist; Assistant Professor of Biol...

Timothy Nice, PhD

Assistant Professor of Molecular Microbiology and Im...

Thomas J Bartosh, PhD

Assistant Professor, Texas A&M University Health Sci...

Dianne Newman

Microbiologist; Newman Lab at the California Institu...

Jacqueline Kimmey

Postdoctoral Fellow at the University of California,...

Theodore Ho

Postdoctoral Scholar at Stanford University

Tyler Allen

Cancer Researcher & Ph.D. candidate at North Carolin...

Dr. Marc Milstein

Scientist, Researcher, and Professional Speaker on H...

Taylor Feehley

Associate Director, Corporate Strategy & Development...

Dr. Anthony Fauci

Director, National Institute of Allergy and Infectio...

Ofer Levy

Infectious Disease Specialist

Shekinah Elmore

Oncologist
More like Robert