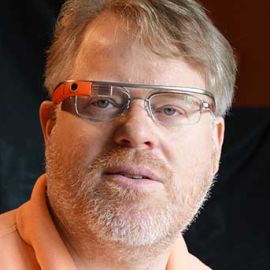 Robert Scoble
UpLoad VR Entrepreneur in Residence; Blogger, Technical Evangelist, and Author, "Age of Context: Mobile, Sensors, Data and the Future of Privacy"
Robert Scoble is a connector of people who are building the future.
As Futurist for Rackspace, the leading Managed Cloud Computing Company, Scoble travels the world looking for what's happening on the bleeding edge of technology for Rackspace. He's interviewed thousands of executives and technology innovators and reports what he learns in best selling books YouTube, and many social media sites where he's followed by millions of people.
He was Instagram's 79th user, the top person to follow on Twitter in it's first 2 years and Siri was launched in his house...yes really!
As a globally in demand keynote speaker Robert delivers a rocket-fuelled ride through the future of technology, from the rise of wearable computers to the implications of computerized data - and gives businesses an insight into how they can harness this rapidly shifting landscape to deliver realtime changes in their businesses.
Videos
---
Speech Topics
---
The Age of Context: Mobile, Sensors, Data and The Future of Your Business
The world is changing at a rapid rate and the way in which consumers buy, interact and engage with businesses has, and will continue to evolve beyond recognition.
Robert Scoble gives you an indepth look at the context inside which your company is operating so that your staff can innovate in the areas that matter most. Whether you are looking to decode data, get to grips with wearables, or understand how mobility is impacting your bottom line, this keynote provides you with a clear picture of the world in which you operate.
Key takeaways include:
The customer in context - who your consumer really is

Why trust is the new currency

How to create pinpoint marketing

A guide to why wearables matter to your business
The Frictionless World: How Frictionless Services Are Changing Our Lives And Expectations
Good service and decent products are no longer enough, in this rapidly evolving world your consumer experts seamless experiences. In this new business environment, if every aspect of your business isn't 'Frictionless' you will soon become obsolete.
Instead of standing on the street, hailiing a cab, searching for cash and not knowing what kind of user experience you are going to be having we now have Uber. Instead of shopping for groceries, looking for cash, not knowing the balance of your account we now have intelligent banking. Every business and product must align with the frictionless way of thinking in order to grow and play in this new, technologically enhanced world.
This fast-paced keynote will:
Give an insight into the 5 sensors that are enabling Frictionless

Explain why and how businesses must align to this new reality

Make you question how well you really know your consumer
Connected: Numbers Don't Matter, What Does?
In a world where every media is social, how does a business create cut through and unlock real connections in a sea of numbers and marketing hype? The 79th user of Instagram, Twitters top 5 to follow and with a network of 8 million followers, there is nobody more equiped to educate businesses on the power of social media that Robert Scoble.
Privacy and data are now the buzz words surrounding your social media strategy, as you learn more and more about who and what your consumer expects from you Robert will show you what the future of this connected society means for your business.
Key takeaways include:
Data versus privacy - where are the grey areas

If numbers don't measure influence then what does?

What platforms are going to be disrupting your industry
Future Disruptors: Lessons From The People Building The Future
Robert Scoble lives at the crossroads of cutting edge technology and the future of business which is why the worlds best innovators continue to seek him out! With these incredible resources, he is, for the first time, sharing lessons on innovation learnt through his unrivalled experience.
How can you innovate around your products and communications so that Augmented Reality, Big Data and Radical Connectivity further propel you to sucess as opposed to irrelevance.
In this dynamic session, Robert draws out these lessons and applies them to your business so that delegates:
Walk away, armed with an understanding on the near and distant future

Are equiped with the tools to innovate and transform their processes and products

Gain an insight into how AR and VR will change things forever