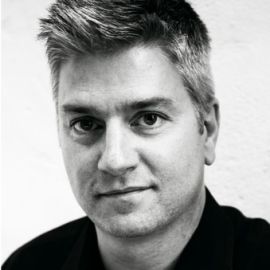 With $200, a bicycle and a subsequent collaboration with Best Buy, Robert Stephens transformed the small, cryptic world of tech support and made it glamorous and accessible, when he founded The Geek Squad in 1994. Charming and wildly insightful, with proven business savvy and an inspiring story of entrepreneurship, he captivates audiences with exciting perspectives on advancing technology, smart marketing and thoughtful business strategy, and what he thinks is the next "big thing."
In 1990, Stephens left the Art Institute of Chicago to pursue his passion for all things technical and a degree in computer science at the University of Minnesota. As a student, he landed a job fixing computers at the Human Factors Research Laboratory and within three years, rose to head engineer. In 1994, he started a computer consulting business called The Geek Squad, which he grew until 2002, when he sold it to Best Buy. Since then, The Geek Squad has become the world's preeminent tech support service, with over 20,000 global agents, with Stephens' story featured by leading media outlets, including CNN, Newsweek, Fast Company, The Wall Street Journal and Rolling Stone. Stephens served as CEO of The Geek Squad and CTO for Best Buy until 2012.
The author of The Geek Squad Guide to Solving Any Computer Glitch, Stephens was applauded for creating a manual using plain language, and demystifying the most commonly used hardware and software, including quick fixes to common glitches and smart maintenance advice.
Stephens offers stimulating insight on innovation, marketing, customer experiences and upcoming trends, and inspires audiences with what is possible when you have passion, $200 and a crazy idea!
Speech Topics
---
Marketing is a Tax You Pay for Being Unremarkable
The best thing to happen to Geek Squad founder Robert Stephens is that he had no money or resources when he started his business. He explains why this was so valuable, touching on the origins of Geek Squad, the purposeful choice of a non-technical brand for a technology company, and all of the detailed decisions that made the company successful. From the cars, to the messaging, to the culture, he provides entertaining and encouraging insight on how starting out with nothing was the catalyst for creating his successful and unique brand.
The Geek Squad Saves the World
What do you get when you take $200, a crazy idea and passion for all things technical? Learn how Stephens transformed the boring world of computer support and made it exciting and glamorous. This is a can't-miss presentation, full of inspiring entrepreneurial spirit and valuable business tips, starring one Chief Inspector, 12,000 Double Agents and Geekmobiles, The Rolling Stones, The CIA, The Oscar Mayer Weinermobile and more than 5,000,000 messed up computers.
Beyond Social Media: The Sharing Economy
Stephens offers fascinating insight on upcoming developments on and off the web, and reveals why he predicts that the biggest trend of the coming decade will be the "Sharing Economy," outlining what that means for society and business and why he is betting on it.
News
---
Making Geekdom Cool and Profitable
Robert Stephens, founder of Geek Squad, remembers the first time he saw the Internet – in a research laboratory at the University of Minnesota, circa 1990 – and likens the moment to the California Gold Rush. By 1994, the former computer-science ....
If you don't have a brand, you don't truly have a purpose
It's easier than you'd think to get into an argument with Tom Peters. You just have to follow him on Twitter and bring up the word "branding." That appears to be all it takes to send the author of the influential management bestseller In Search of Excellence into paroxysms.
Related Speakers View all
---
Josh Linkner

Five-Time Tech entrepreneur, Hyper-Growth CEO, New Y...

Jim McCann

President & CEO of 1-800-FLOWERS.COM

Paul Orfalea

Founder of Kinko's, Philanthropist-Chairman of the O...

Geoffrey Moore

Managing Director, Geoffrey Moore Consulting; Ventur...

Tim Sanders

Bestselling Author, Technology Pioneer, Expert on Co...

Terry Jones

Digital Disruptor, Author & Venture Capitalist

George Hedley

Construction Business Owner; Providing "Hands-on," F...

Jeff Taylor

Founder of Monster.com & Eons.com

Sir Richard Branson

Businessman, Founder of Virgin Group

Dan Ariely

Behavioral Economist; Professor at Duke University; ...

Jon Steinberg

Founder & CEO of Cheddar; Former President and COO o...

Sahar Hashemi

Entrepreneur & Founder of Coffee Republic and Skinny...

Gene Marks

Columnist, Author, and Small Business Owner

Peter Guber

Executive, Entrepreneur & #1 NYT Bestselling Author,...

Watts Wacker

Futurist & Commentator

Michael Treacy

Best-Selling Author, Entrepreneur & Business Adviser

Jeffrey Rayport

Faculty at Harvard Business School; Expert in Strate...

Dr. Nido Qubein

Award-Winning Speaker and Author, President of High ...

Dean Kamen

Inventor and Entrepreneur; President, DEKA Research ...

Gary Hamel

Internationally Renowned Expert on Business Strategy...
More like Robert