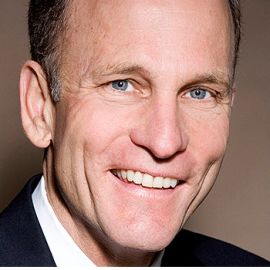 Robert Tucker is a renowned global futurist and innovation keynote speaker with a client list that includes over 200 of the Fortune 500 companies. Founder and president of Innovation Resource Consulting Group, Tucker is an internationally recognized pioneer in the field of strategic foresight and innovation.
During the course of his 28-year career, Tucker has worked with groups ranging from the economic development ministries of Singapore, Dubai, and Morocco, to multinational companies like IBM, American Express, and Nestle, as well as numerous trade and technology groups in a wide variety of industries.
A former adjunct professor at UCLA and widely acknowledged as one of the most influential innovation thought leaders and trend forecasters, Tucker's latest book, Innovation Is Everybody's Business: Making Yourself Indispensable in Today's Hypercompetitive World, reveals the Seven Innovation Skills that are rapidly becoming essential to navigating one's career and business in today's hypercompetitive world. His customized, high energy presentations provide leaders with cutting edge insights, practical advice, and reveal the ""innovation mindset, toolset, and skillset"" necessary to seize opportunities and profit from today's rapid changes. His international bestseller, Managing the Future: 10 Driving Forces of Change, has been translated into over 17 languages.
Considered one of the founding thought leaders in the growing Innovation Movement, Tucker is publisher of Innovation Trends, and is a frequent contributor to such publications as Forbes, Strategy & Leadership, Bloomberg BusinessWeek, Innovation Excellence and other publications. He has appeared on CBS News, Channel News Asia, Bloomberg, Network 18 India, the PBS series Taking the Lead, and was a was a featured guest on the CNBC series The Business of Innovation.
A multi-year winner of the Top Five Speaker hall of fame, Tucker is a recipient of the prestigious Brand Personality Award by the Asia Pacific Brands Foundation for outstanding contributions to the field of innovation.
Videos
---
Speech Topics
---
Managing the Future: Capitalizing on the Driving Forces of Change
In today's world, we're either managing for the future… or the future is managing us! In this session, global trends futurist Robert Tucker provides a powerful framework for thriving and prospering amidst the uncertainty of the 2020s -- a world of constant change. This fast-paced, future-focused keynote provides a practical framework for leaders in all industries who want to stay ahead of the curve and avoid being blindsided by today's rapid technological, social, and disruptive changes. Powerful strategies revealed here will show you how to anticipate emerging trends, and use them as building-blocks to greater growth. Prepare for a session that will leave you inspired, optimistic, and ready to take action to seize opportunities in this exciting time.
Driving Growth Through Innovation
This dynamic, example-filled keynote will give you an overview of the important finding reported in Tucker's ground-breaking book, Driving Growth Through Innovation. Tucker will take you and your colleagues behind the scenes inside the Innovation Vanguard companies. You'll discover the latest methods for building innovation into a powerful source of growth, profits, and competitive advantage
Innovation is Everybody's Business
Organizations are increasingly in need of high potential managers and individual contributors with the abilities and mindset to get new projects done. While professionals with functional and technical skills are valued, those with Innovation Skills are emerging as the most sought-after talent in today's hyper-competitive age. In this practical, inspiring and highly interactive personal development session, Tucker explores powerful tools and strategies to help you and your colleagues hone your ability to seize emerging opportunities, develop new revenue sources, add value, and create unconventional solutions.
The Intelligent Talk Show
Have you ever wished there was a way to spice up those important, but often boring, panel discussions at your big meetings? With the Intelligent Talk Show, panelists become "guests" on a "live" show and are more animated, lively and better prepared to get their message across. Guests are more willing to tackle the tough issues that create industry buzz, and the "talk show" often shows up in meeting evaluations as the highlight of the entire conference.
Seeing What's Next: Innovation Strategies for Shaping Your Post-Pandemic Future
In this session, futurist and innovation strategist Robert Tucker focuses on the mindset, skillset and toolset that leaders need to thrive and prosper in the post-Covid era. Tucker believes that businesses and their leaders will rise or fall based on their ability to anticipate and creatively respond to rapid shifts in customer requirements, technological developments and macro driving forces of change. This powerful session shows you how to create an early warning system in your company that enables you to steer clear of disruptions and gain the edge with new technologies and innovation processes. Robert is a veteran keynote speaker (54 countries and 200 of the Fortune 500 have hired him) who focuses on the leader's need to improve strategic foresight and drive growth through innovation. This session will provide actionable "take home" solutions to assist members in turning crisis into your firm's opportunity. Don't miss it!
Related Speakers View all
---
Josh Linkner

Five-Time Tech entrepreneur, Hyper-Growth CEO, New Y...

Terry Jones

Digital Disruptor, Author & Venture Capitalist

Doug Lipp

Former Head of Training at Walt Disney University & ...

Bill Capodagli

Author of "Innovate the Pixar Way: Business Lessons ...

Jim Carroll

One of the World's Leading Global Futurists, Trends ...

Luke Williams

Bestselling Author, Professor of Business at NYU

Erik Qualman

Top Digital Transformation Expert, Futurist & Bestse...

Dr. Kevin Freiberg

World-Wide Best-Selling Author, Speaker & Advisor

Mitch Lowe

Co-founding Executive of Netflix & President of RedBox

Mike Walsh

CEO of Tomorrow; Global Nomad & Futurist; Bestsellin...

John Rossman

Former Amazon Executive, Author & Expert on Digital ...

Geoff Colvin

Editor & Columnist at Fortune Magazine; Author of "H...

Eduardo Briceño

Growth Mindset and Improvement Expert; Co-Founder & ...

Randi Zuckerberg

CEO & Founder of Zuckerberg Media, Author

Mark C. Thompson

Executive Coach & Author

R "Ray" Wang

Founder, Chairman & Principal Analyst at Constellati...

Adrian Gostick

Founder of The Culture Works & Bestselling Author of...

Scott Steinberg

CEO of TechSavvy Global, Strategic Innovation Consul...

Daymond John

"Shark Tank" Investor; Founder & CEO of FUBU; Presid...

Haydn Shaw

Expert in Generational and Cross-functional Roles, C...
More like Robert