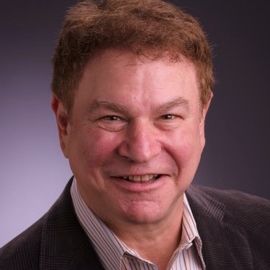 Whether performing as an actor, writer, producer or director, Robert Wuhl refers to himself as one thing -- a storyteller. This is never more illustrated than in his Award winning HBO Comedy Specials, Assume the Position with Mr. Wuhl, and Assume the Position 201 in which he lectures actual college students about the stories that made up American, and the Stories that America made up. The stage version of the two TV specials has toured across the country, from Boston to Los Angeles, from New York City to Phoenix.
In January 2013, Wuhls new play Hit-Lit, workshopped at the Quintero Theatre at the University of Houston, his alma mater. Hit-Lit is a mistaken-identity screwball comedy set in the publishing world. In March 2013, Hit-Lit moves to the Queens Theatre, in New York City for its World Premiere.
Robert was the creator and star of ARLI$$ from 1996 to 2002. During its seven seasons on HBO, ARLI$$, a satire of the world of professional sports, achieved a rare feat, growing in numbers each and every year, as it crossed the line between comedy and dramatic social commentary, presenting such issues as Domestic Abuse, Homosexuality, Ageism, Racism, Alcoholism, and Steroid abuse in sports.
Wuhl has also been critically praised for this work in films such as Bull Durham, Tim Burton's Batman, Good Morning Vietnam, Mistress, Blaze, and Cobb. In 1996, he directed, wrote, and starred in the independent feature, Open Season, a biting satire of the TV ratings system. Twice honored with Emmy Awards in 1991 and 1992 for writing the Academy Awards telecasts hosted by Billy Crystal, Wuhl also received CableAce Best Actor nominations in both drama for Tales from the Crypt, and comedy, for Arli$$. As a comedian, Robert starred in his own HBO Comedy Hour titled, Robert Wuhls WorldTour, and was a performer on Comic Relief.
But, in the beginning... after High School in Union, N.J., Robert headed to the University of Houston. Leaving Houston,, Wuhl returned to the east coast and began performing at The Improv in NYC, where he was put on stage by the clubs then-manager, Chris Albrecht. His routines were so well received that Rodney Dangerfield hired Wuhl to write jokes for him. It was also at the Improv where he met his future wife, Barbara Capelli, to whom he has been married for over thirty years. In 1979, Robert headed to Hollywood where he won the role of Newbomb Turk in the cult classic comedy, The Hollywood Knights, and became a writer for the critically acclaimed TV comedy Police Squad. The Robert Wuhl Show," a national radio sports and entertainment talk show for Westwood One, debuted in January 2011 and ran for one year.
Wuhl has also lent himself to a myriad of charitable causes including the Alzheimers Association of Los Angeles, the National Breast Cancer Coalition, St. Judes, Save the Music, Children Uniting Nations, and Heal the Bay.
News
---
Robert Wuhl spills his funniest secrets, opening up on new show, his UH love and screwball satire
Consider the many roles actor, comedian and writer Robert Wuhl has performed over his successful career. In Tim Burton's 1989 Batman, in the television series Arli$$, alongside Kevin Costner in Bull Durham and in his one-man special on HBO, Assume the Position with Mr. Wuhl, it appears as if the comedy of this former University of Houston student naturally cascades without much restraint
Related Speakers View all
---
Martin Short

Iconic Comedian, Actor & Writer

Tim Meadows

Actor & Comedian; Known for "Saturday Night Live"

Lil Rel

Comedian & Actor, Known for "Get Out" & "Rel"

Dan Harmon

Creator & Executive Producer for the NBC Television ...

Simon Helberg

Actor & Comedian; Best Known for Role of Howard Wolo...

Nick Kroll

Actor & Comedian; Best Known for "Big Mouth," "Kroll...

Dustin Diamond

Actor & Comedian, Known for his role as Screech on "...

Dane Cook

Comedy Icon & Actor

Nick Cannon

TV Personality, Former Host of "Wild N Out" & "Ameri...

Heidi Gardner

"Saturday Night Live" Cast Member, Comedian, Voice A...

Regina Hall

Actress Known for "Scary Movie," "The Best Man" & "A...

Barry Rothbart

Actor and Stand-Up Comedian; Named One of Variety's ...

Michael McDonald

Michael James McDonald is an American stand-up comed...

Michael Che

News Anchor of "Weekend Update" on "Saturday Night L...

Andy Samberg

Actor, Comedian, Rapper & Writer; Known for "Saturda...

Caroline Rhea

Stand-up Comedian, Actress & Television Host

Tom Papa

Comedian, Actor, & Television/Radio Host

Blake Clark

Stand-Up Comedian & Actor

John Byner

Actor, Comedian & Impressionist

Dan Aykroyd

Actor, Comedian, Entrepreneur Known for "The Blues B...
More like Robert