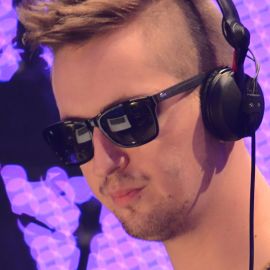 Robin Schulz began playing smaller clubs as a DJ somewhere in rural Lower Saxony. Meanwhile, he has travelled the world: Osnabrück, New York, Tokyo. His 2014 breakthrough single, the multi-platinum certified Top 1 remix of "Waves (feat. Mr. Probz)" was a first sign of things to come. 2014 marked the start of a fairytale summer that knew just one name: Robin Schulz. His internationally gold- and platinum-certified follow-up single "Prayer In C (feat. Lilly Wood & The Prick)" went on to become a global hit and write history, with Schulz as the first-ever German artist to reach the #1 spot of the global Shazam charts. Subsequently "Prayer In C" was officially named the "Summer Hit of 2014" and rightfully so.
Building on this success, Schulz went on to release his now gold-certified debut album "Prayer" in autumn 2014, along with the song "Sun Goes Down (feat. Jasmine Thompson)". Meanwhile Robin Schulz has sold several million records of "Prayer In C", "Sun Goes Down" and the first single "Headlights" off his new album "SUGAR", while generating 9-digit streams on Spotify as well as receiving numerous gold and platinum certifications. Numbers, digits and rankings that offer but an abstract image of the global pop phenomenon that is Robin Schulz. After performing at renowned events such as London's iTunes Festival, the Belgian Tomorrowland, Mayday, the Nature One Festival, Miami's Ultra Music Festival and the Ultra Festival in Japan as well as doing sold-out tours throughout Europe, America, Asia and Australia, the rather introverted artist has already joined the ranks of the greats. It is no longer uncommon for Schulz to play for 100,000 euphoric party people, sending crowds into a temporary frenzy, wherever he mans the decks. The notorious shades-wearer was even nominated for a coveted Grammy earlier this year among the US entertainment industry's who is who and went on to take home the German ECHO award as "Best Dance National". All of these moments have left their mark on his new album "SUGAR". Thousands of new experiences, thousands of impressions and thousands of inspirations that Schulz has now channeled into 15 new songs.
On "SUGAR", Robin Schulz performs a uniquely delicate balancing act between electronic and pop music, like few of his peers. Schulz embodies the zeitgeist initially summoned by the worldwide club scene, but which has now outgrown dance culture in its pure form and evolved into a hybrid, at home in specialized press and features sections alike. Whatever passes through his hands is turned into precious metal in record time. Robin Schulz has created his very own, genre-transcending and highly recognizable sound: Deep house with organic instruments, always accompanied by a certain melody. Though Schulz doesn't see himself as much of a melodic type. "SUGAR" is Schulz taking the next step and delivering his own brand of sweetness to the dance floor. While his debut "Prayer" featured various remakes of songs by other artists, "SUGAR" is composed of his own productions. Schulz uncut. Robin Schulz has expanded his sound and fine tuned it to create the greatest possible diversity, ranging from catchy radio tunes to dance-able club tracks.
Superstar overtime that has already paid off with tracks such as the album's first precursor "Headlights (feat. Ilsey)", which saw Robin Schulz quickly enter the Top 10 in Germany. His current single was equally quick to reach gold: "Sugar (feat. Francesco Yates)" is the third #1 single by the Osnabrück-born artist that also entered the German single charts, streaming charts, airplay charts and iTunes charts at #1, besides generating several million Spotify streams and counting. The song's official music video is currently ranked among the most-watched clips on YouTube and was recently voted one of the "5 Best Dance Videos Of The Week" by music service Shazam, while Robin Schulz's YouTube channel is officially the most successful German YouTube channel in the area of music.
In 2017, he released his third studio album, Uncovered. A film on Schulz's life, "Robin Schulz -- The Movie," was uploaded to YouTube on March 1, 2017. The film revealed that Schulz had an upcoming fashion line, Q/S Designed by Robin Schulz. The documentary, which had a run time of an hour and a half, features other artists such as Lost Frequencies, Oliver Heldens and Axwell & Ingrosso.
Videos
---
Related Speakers View all
---
Flume

Australian Electronic Music DJ & Producer

Hermitude

Australian electronic hip hop EDM duo

Jack Novak

Producer/Songwriter/DJ

Kap Slap

Electronic/Dance DJ & Producer

Mako

American DJ duo consisting of Alex Seaver and Logan ...

Michael Brun

Haitian DJ, record producer, known for blending EDM ...

Shpongle

Psychedelic Electronic Music Project

Tipper

British composer and producer specialising in electr...

Hot Natured

Comprised of EDM's most recognizable names, producer...

Griz

American DJ & Electronic Producer

Grandtheft

Establishing an eclectic, custom club sound by playi...

Martin Garrix

Dutch DJ; Best Known for his Track "Animals"

Madeon

French House DJ and Music Producer

Zedd

Electronic Music Producer and DJ Known for "Spectrum...

Calvin Harris

Scottish DJ, Singer-Songwriter & Record Producer Kno...

Justice

French Electronic Music Duo

Ricky Rocks

DJ and Percussionist

Bob Moses

Deep-House Electronic Music Duo

Kaytranada

Electronic Artist

Marshmello

DJ and Electronic Music Producer
More like Robin