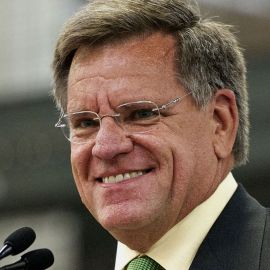 Rocky Wirtz
President of Wirtz Corporation and Chairman of the Chicago Blackhawks
Rockwell (Rocky) Wirtz was named President of Wirtz Corporation and Chairman of the Chicago Blackhawks in October 2007, following his late father, William W. Wirtz.
Today, Wirtz Corporation is one of the largest privately-held and family-owned companies in the United States. As President of Wirtz Corporation, Rocky's role extends to a vast array of businesses from Sports and Beverage Distribution to Entertainment, Real Estate, Agriculture, Insurance and Banking.
As Chairman of the Chicago Blackhawks, Rocky is responsible for all aspects of the club's operations. He was just two years old when his grandfather, Arthur Wirtz, purchased the Chicago Blackhawks in 1954. Rocky grew up within the walls of the storied Chicago Stadium, and he oversaw the team's historic Stanley Cup championship victories in 2010, 2013 and 2015. Rocky is also the Co-Chairman of the Executive Committee of Chicago's United Center and is a member of the National Hockey League's Executive and Audit Committees.
Rocky has led the family's beverage business -- Wirtz Beverage Group -- since 1980, where his strategic vision, commitment to investment and time-honored focus on running a value-driven business helped the company expand its footprint. In 2016, Rocky drove efforts to form a partnership with The Charmer Sunbelt Group, creating Breakthru Beverage Group (BBG). Today, BBG employs more than 7,000 associates and has operations in 14 states across the U.S. and Canada. Recognizing his many contributions to the beverage industry, the Wine and Spirits Wholesalers of America honored Rocky with a Lifetime Leadership Award in 2014.
Wirtz Realty has developed properties in Illinois for decades, and the company owns and manages over 20 commercial and residential properties along Chicago's lakefront and throughout the suburbs. Rocky also oversees Wirtz Insurance, as well as banking interests at First Security Trust and Savings, based in Elmwood Park, Illinois and First National Bank of South Miami in Florida.
Through it all, Rocky continues to lead his family's commitment to numerous civic and charitable organizations. His dedication to Chicago Blackhawks Foundation is unwavering. Founded by his father, Chicago Blackhawks Foundation has donated millions of dollars to dozens of organizations focusing on youth programs, health and wellness, education and housing. When seeking a new practice rink for the Blackhawks, Rocky went beyond creating a single-use home for the team, and in 2015, announced the construction of a $65 million community ice rink and practice facility near the United Center. Set to open in December of 2017, the facility will offer a number of benefits to Chicago's youth who may not have the opportunity or resources to learn the sport of hockey.
Rocky is a member of the Civic Committee of the Commercial Club of Chicago and serves as a Trustee at The Field Museum of Natural History and Northwestern University, where he earned a Bachelor of Science Degree in Communications in 1975.
At Northwestern, he established the Virginia Wadsworth Wirtz Endowment for Visiting Artists. That program, named in honor of his grandmother, allows Northwestern's School of Communication to invite nationally acclaimed performers to work directly with students and staff at the Theatre and Interpretation Center. In April 2014, the center was renamed the Virginia Wadsworth Wirtz Center for the Performing Arts in recognition of the family's financial gifts.
Rocky and his wife, Marilyn, reside in the northern suburbs of Chicago. Rocky has three children, Daniel, Hillary and Kendall; Marilyn has one daughter, Elizabeth. Rocky is also the proud grandfather of three granddaughters and two grandsons.