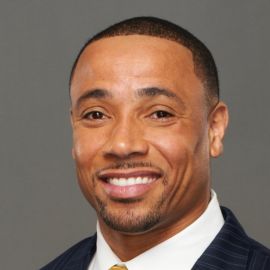 Rodney Harrison
Television Analyst, Former New England Patriots Safety; Established the "Hard Hitters" Foundation
Rodney Harrison is a former NFL player for the San Diego Chargers and the New England Patriots. He one of two players in NFL history with at least 30 career sacks and 30 career interceptions. He was also a two-time Pro Bowl selection and winner of two Super Bowl rings. Harrison serves as a commentator for Sunday Night Football on NBC.
Harrison was drafted in the fifth round of the 1994 draft by the San Diego Chargers, the same year they the Super Bowl, which they lost to the San Francisco 49ers. Harrison became a starting member of the Chargers' 1996 defense, going to two Pro Bowls with the Chargers in 1998 and 2001. He set then-career highs with the Chargers in 2000 with 127 tackles and six interceptions; in 2002 he started 13 games and recorded 88 tackles in his final season with the Chargers.
In 2003, Harrison signed with the New England Patriots. During his first season with the team, Harrison was named to the Associated Press' All-Pro team following a 140-tackle (a 2003 NFL best for a defensive back) and three-sack season in which he started all 16 regular season games. He played with the Patriots until his retirement in 2009, following an injury in the 2008 season.