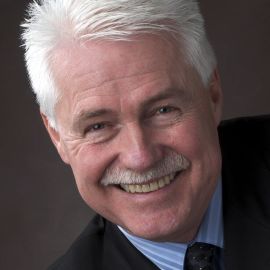 Ron Black helps business professionals identify and mobilize their everyday superpowers in leadership, sales, and change to bring out the best in themselves and their teams.
As the founder of nine companies, four-time turnaround consultant, Fortune 500 marketing VP, and advisor to over 250 start-ups, Ron inspires professionals to climb high, face their challenges, and leap into action with Clarity, Action, Purpose, and Enthusiasm -- radically improving their effectiveness.
Clients include many notable organizations such as UCLA, INTEL, Boeing, VW-ERL, Atlas Copco, Leica Geosystems, MPI, AMGEN, ADT Tyco, Thermo Fisher, AEM, Oleon Chemical, Comerica Bank, Nalco/Ecolab, Schneider Electric, Defense Intelligence Agency, the US Army's Special Forces Operations Command, and many others.
Published by Penguin Putnam and McMillan, his third book LEADERSHIP - The Everyday Superhero's Action Guide hit Amazon's TOP 100 and the HOT NEW RELEASE list in three categories.
Ron has spoken to more than 2000 groups in 47 of the United States, throughout Canada and Australia, and in Columbia, Europe, and Brazil. He's a former U.S. Marine, the proud papa of three grandchildren, his wife's favorite cook (when he's home), and an avid wilderness trail runner.
Videos
---
Speech Topics
---
Trust Your CAPE! - Mobilize Your Everyday Superpowers
*Unleash Your Everyday Super Powers – Clarity, Attitude, People, and Enthusiasm – for Business and Life *
In today's world the challenges are many and the risks are real, but for those who tap into their inner superhero and take the leap, opportunities abound!
This interactive program reveals four everyday superpowers that transforms intentions into results, both in business and in life.
Tap into your superhero, harvest the wisdom of those around you, utilize what you have, and find the traction to move forward. Build your CAPE with clarity, attitude, purpose, and enthusiasm – and take your results from ordinary to extraordinary!
Format This program is a 60-90 minute keynote and can be tailored to leadership, change, sales, and entrepreneurial topics.
Trust Your CAPE! demo video reel
High-Performance Selling in the New Economy: How A Players Dominate their Territories in Today's Volatile Markets
In the new economy of volatile markets and wide-spread uncertainty, many sales professionals are on the defensive but for those in the know, opportunity abounds!
This program provides the latest research on business-to-business marketing and reveals the systems, strategies, and tactics this seasoned sales and marketing turn-around consultant has used to build prots and growth, even in challenging markets.
Whether you run a territory, sales team, or company, success depends on the opportunities targeted and the tactics deployed.
Learn the secrets of segmenting, evaluating, and targeting worthy markets; how to integrate your marketing strategies and sales process; and how to build an unstoppable sales and marketing machine that dominates your territory.
Tune up your sales and marketing systems with Value, Volume, and Velocity
Launch strategically targeted campaigns to dominate markets and boost profitability
Evaluate your sales and marketing process with an expert's eye
Unstoppable Sales and Marketing: Strategies and Tactics for Growing Your Business
Zero in on three business success imperatives: worthy markets, effective process, and persuasive communications. This program reveals a seasoned start-up and turn-around consultant's secrets for building profits, market strength, and sales growth-while working with what you have. Focus your sales and marketing resources where they really count.
Leadership in Turbulent Times: Transforming Comfort Zones into Achievement Zones
This seasoned turn-around consultant reveals the essentials for leading in a world of relentless change. Work with what you have, focus on imperatives, build momentum, and deliver results. The nuts and bolts of leading transformational change.
Championship Teams: Harvesting the Wisdom of G.R.E.A.T. Teams
Today's successful organization is agile-rapidly bringing together talent, focusing on imperatives, and delivering timely results. Unleash the potential of your G.R.E.A.T. teams with today's leadership imperatives: goals, roles, environment, attitudes, and trust. Transform your organization's agility and achievement.
Related Speakers View all
---
Bill Capodagli

Author of "Innovate the Pixar Way: Business Lessons ...

John Izzo, PhD

Leadership Expert & Bestselling Author

Jason Young

Former Senior-Level Manager at Southwest Airlines & ...

Doug Lipp

Former Head of Training at Walt Disney University & ...

Libby Gill

Leadership Expert, Executive Coach & Award-Winning A...

Seth Mattison

Co-Founder & Chief Movement Officer of Luminate Labs...

Black Ops

An Elite Military Commando Unit

Afterburner

US Fighter Pilots & Team-Building Experts

Rob Waldo Waldman

Decorated Fighter Pilot; Power of Relationships & Tr...

Matt Oechsli

Keynote Speaker, Personal Coach, & Best-Selling Auth...

Amanda Gore

CEO, The Joy Project; Hall of Fame Motivational Spea...

Sam Geist

Consultant / Facilitator

Chip Eichelberger

Peak Performance, Motivation & Sales Strategist

Louis-Philippe Loncke

European Adventurer 2016, Explorer, Motivational Spe...

Kirsty Spraggon

‎Talk show host. Speaker. Life absorber. People love...

Robert Cialdini

CEO & President of Influence at Work; Leading Expert...

Cheryl Cran

Future of Work & Change Leadership Expert; Author of...

Jack Zenger

Co-Founder and CEO of Zenger Folkman; Expert on Lead...

Peter Bregman

Founder of Bregman Partners, Author & Leadership Col...

Robert Kriegel

Expert in Sports & Performance Psychology
More like Ron