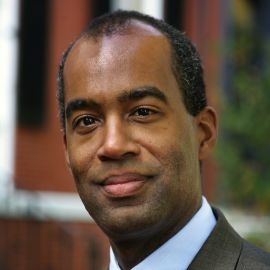 A former special assistant to President George W. Bush and deputy assistant to Vice President Dick Cheney, Christie was appointed a Resident Fellow at the Institute of Politics at the John F. Kennedy School of Government at Harvard University for the Fall 2011 term. He is the author of three books, "Acting White: The Curious History of a Racial Slur" (St. Martin's Press) and "Black in the White House: Life Inside George W. Bush's West Wing" (Nelson Current). His most recent book "Blackwards: How Black Leadership is Returning America to the Days of Separate But Equal" was published by St. Martins Press (Thomas Dunne Books) on September 4, 2012. Prior to Christie Strategies, he served as vice president of a full-service issues management firm that provided integrated public affairs campaigns that combined lobbying, issue advertising, strategic public relations and grassroots pressure to solve difficult public policy problems. He was also executive vice president and director of global government affairs at a leading private public affairs firm and of counsel at the DC law firm, Patton Boggs, LLP.
As a frequent commentator on current political events, he has appeared as a political/legal analyst on Lou Dobbs Tonight, The O'Reilly Factor, Fox and Friends, Hardball with Chris Matthews, The Ed Show, The Tavis Smiley Show and Fox News Sunday. Christie regularly appears as a political contributor on National Public Radio and is a featured blogger on the Politico "In The Arena" site. He previously served as an adjunct professor of strategic advocacy at The George Washington University School of Political Management and is a visiting assistant professor of Political Science at Haverford College. He also acts as an outside communications and political strategist to Republican Members of the House of Representatives and the United States Senate where he advises on current policy and political matters.
Christie received his B.A. from Haverford College and his J.D. from The George Washington University National Law Center, and prior to joining Vice President Cheney's staff, he briefly served as counsel to former U.S. Senator George Allen, and as senior adviser to former House Budget Committee Chairman and current Ohio Governor, John Kasich.
Speech Topics
---
An Inside Look at Washington
Ron Christie brings to the podium years of experience in political strategy, public policy, international affairs, and good old-fashioned grassroots politics. He has worked with senatorial and presidential candidates developing messaging and policy points. With years of experience as a commentator, author, professor, and strategic analyst, Christie sheds light on the ceaseless world of current events, both at home and abroad.
A Unique Perspective on a Historic Election
As a prominent African-American political operative, Ron Christie brings a unique perspective to the historical, cultural, and political implications of the election of President Barack Obama. Speaking with candor, enthusiasm, and an optimistic outlook, he provides keen insights to the complex, ever-shifting relationship between race and politics in America.