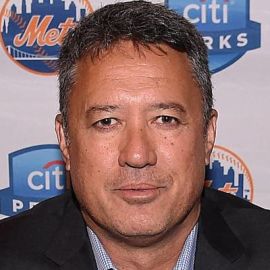 Ron Darling
Darling is SportsNet New York's game and studio analyst -- working over 100 Mets telecasts in 2007.
Ron Darling is an American former MLB starting pitcher who played for the New York Mets, Montreal Expos, and Oakland Athletics. Darling works as a color commentator for national baseball coverage on TBS and for the Mets on both SNY and WPIX. He also co-hosts on the MLB Network.
Since beginning his broadcast career in 2000, Darling hosted FOX's Baseball Today and worked in the broadcast booth for both the Oakland Athletics and Washington Nationals. He has also appeared on various sports programs including The Best Damn Sports Show Period and National Sports Report. In 2006, he won an Emmy Award as Best Sports Analyst for his work on the Mets broadcasts.
During his playing days on the diamond, Darling spent nine seasons as a starting pitcher for the New York Mets highlighted by winning the 1986 World Series. During his 13-year career, the Gold Glove winner also played five seasons with the Oakland Athletics after a short stint with the Montreal Expos. Drafted by the Texas Rangers with the 9th overall pick in the 1981 Amateur Draft, Darling was awarded a spot on Baseball Digest's 1984 Rookie All-Star Team. He amassed a stellar won-loss record of 136-116 and recorded 1,590 strikeouts with a 3.87 ERA. Darling was a two-time All-American before graduating from Yale University.
Darling has made a significant impact in the community through the Ron Darling Foundation, raising money for diabetes research due to his eldest son Jordan being diagnosed with Type 1 Diabetes at age 11. He also sits on the Board of Directors for both the Diabetes Research Institute and Habitat For Humanity.
On the big screen, Darling has appeared in films including Shallow Hall, The Day After Tomorrow, and Mr. 3000. In 2009, Darling authored the book, The Complete Game: Reflections of Baseball and the Art of Pitching.
Videos
---