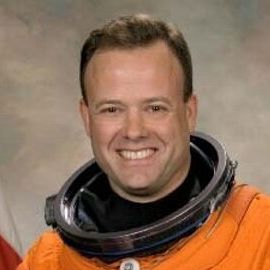 Ron Garan
Retired NASA Astronaut, Fighter Pilot & Author of "The Orbital Perspective - Lessons in Seeing the Big Picture from a Journey of 71 Million Miles"
Having enjoyed an illustrious career that has cemented Colonel Ron Garan's place as one of the world's most influential individuals, the iconic father of three is a decorated NASA astronaut, fighter pilot and test pilot, a humanitarian, and a social entrepreneur.
As part of a select group of individuals who have been fortunate enough to see the world from space, Ron champions his "orbital perspective" message to improve life on earth. Ron is celebrated not just for his research in space but also for his humanitarian contribution to life on earth.
Ron has spent 178 days in space and has traveled more than 71 million miles during 2,842 orbits of our planet. He flew on both the US space shuttle and the Russian Soyuz spacecraft, where he accomplished four spacewalks. Ron also spent eighteen days at the bottom of the ocean during a research mission held in the world's only undersea research lab, Aquarius.
Later, Ron was assigned to the US Agency for International Development, leading the Unity Node project. The project's task was to develop a universal, open-source platform, enabling humanitarian organizations to work toward mutual goals. In 2007, Ron co-founded Manna Energy Limited. Created with the goal of leveraging the carbon market to finance humanitarian projects, Manna is the first organization in the world to register a United Nations Clean Development Mechanism carbon credit program for water treatment.
From representing Manna as one of ten global innovators in the field of water purification during the inaugural Launch Water Forum to his role as advisor to the social business movement, Ron continues to work toward a cleaner, safer, and more peaceful planet. Ron's breakthrough book, The Orbital Perspective : Lessons in Seeing the Big Picture from a Journey of 71 Million Miles, is published by Berrett-Koehler.
Speech Topics
---
Leadership & Risk Management, Finding Unity in Divisive Times, Embracing Change & Technology, Corporate Social Responsibility, Innovation & Planetary Stewardship, Social Entrepreneurship
Conversations with Ron Garan
Related Speakers View all
---
Aprille Ericsson-Jackson

Rocket Scientist; Technologist & STEM Educator

Story Musgrave, M.D.

Retired NASA Astronaut; Physician & Professor at Art...

Dottie Metcalf-Lindenburger

Former NASA Astronaut; Educator & Earth Scientist

Wendy Lawrence

Retired United States Navy Captain, Engineer, Former...

Cady Coleman

Former NASA Astronaut; Retired U.S. Air Force Office...

Daniel Tani

NASA Astronaut & Engineer

Thomas D. Jones, PhD

Former NASA Astronaut & Planetary Scientist; Author

Sir Richard Branson

Businessman, Founder of Virgin Group

Sunita Williams

NASA Astronaut; Formerly Held the Records for Total ...

Bill Rancic

"The Apprentice" Winner; Entrepreneur; Star of "Giul...

Marco Tempest

Cyber-Illusionist

Jim Morris

Known for His Brief MLB Career & Subject of Disney's...

Leroy Chiao

Former Astronaut & International Space Station Comma...

David Breashears

Everest Adventurer, Filmmaker & Senior Lecturer at M...

Garrett Reisman

Astronaut, Professor of Astronautical Engineering at...

Leland Melvin

Engineer, Former NASA Astronaut & Former NFL Wide Re...

Scott Parazynski

Astronaut, Physician & Everest Summiter

Ken Mattingly

Former NASA Astronaut & Test Pilot; Retired Admiral ...

Colonel Mike Mullane

Career Astronaut & Author; Member of International S...

Rudy Ruettiger

Motivational Speaker, Author & Inspiration for the A...
More like Ron