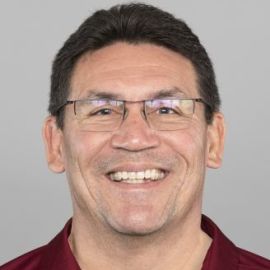 Ronald Eugene Rivera is an American football head coach for the Washington Football Team of the National Football League (NFL). Before becoming a coach, Rivera played college football at the University of California, Berkeley, where he was recognized as an All-American linebacker for the California Golden Bears. He was selected in the second round of the 1984 NFL Draft by the Chicago Bears, and was a part of the 1985 team that won Super Bowl XX. He spent nine years playing for them before retiring after the 1992 season.
Rivera's coaching career began in 1997 when he joined the Bears as a quality control coach. He then joined the Philadelphia Eagles as a linebackers coach in 1999 before rejoining the Bears to become their defensive coordinator in 2004. With them, the Bears made an appearance in Super Bowl XLI. He then joined the San Diego Chargers as a linebackers coach in 2007 before serving as their defensive coordinator for the next three seasons.
In 2011, Rivera became the head coach for the Carolina Panthers. With them, Rivera became their all-time winning coach and was recognized twice as NFL Coach of the Year in 2013 and 2015, while also leading the team to an appearance in Super Bowl 50. Despite that, Rivera was fired midway through the 2019 season due to new ownership wanting a change. Rivera then joined the Washington Football Team to become their head coach in 2020.