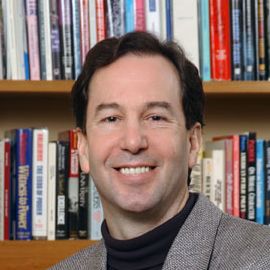 Ronald A. Heifetz
Foremost Authority on Leadership & Organizational Adaptability; Founder of Center for Public Leadership; Senior Lecturer in Public Leadership at Harvard Kennedy School
"There are many jobs in life worth the challenge and the pain. Providing leadership to people is one of them," says Ronald Heifetz, M.D. One of the world's foremost authorities on leadership, he is candid about the real leadership task: to mobilize people to live up to their values, meet great challenges, and achieve adaptive change.
The founding director of the Center for Public Leadership at Harvard's Kennedy School of Government, Dr. Heifetz is renowned for developing transformative methods of leadership development and education. Co-creator of the groundbreaking Adaptive Leadership model, his research focuses on the challenge of building the adaptive capacity of organizations and societies. Dr. Heifetz advises heads of governments, businesses and nonprofit organizations, and has spent more than three decades teaching and coaching people from aspiring leaders to heads of state. The King Hussein bin Talal Senior Lecturer in Public Leadership at Harvard's Kennedy School, his courses are legendary, consistently winning the Kennedy School's alumni award for most influential courses, and drawing students from throughout Harvard and neighboring universities.
Dr. Heifetz's seminal book, "Leadership Without Easy Answers" (Harvard University Press, 1998), which rocketed him – and his leadership theories – to prominence, has been reprinted and translated many times over. He is also coauthor of best-sellers, "Leadership on the Line: Staying Alive Through the Dangers of Leading" (Harvard Business Review Press, 2002) and "The Practice of Adaptive Leadership: Tools and Tactics for Changing Your Organization and the World" (Harvard Business Press, 2009). He has published several Harvard Business Review articles, and is the subject of several others, including the book, "Leadership Can Be Taught: A Bold Approach for a Complex World" by Sharon Daloz Parks (Harvard Business Review Press, 2005), which gives readers an inside look at Dr. Heifetz's bold approaches to leadership theory – and his methods for teaching it.
Dr. Heifetz trained initially in surgery before deciding to devote himself to the study of leadership in politics and business. He completed his medical training in psychiatry. Co-founder of Cambridge Leadership Associates, a leadership consulting firm, Dr. Heifetz is a graduate of Columbia University, Harvard Medical School, and the Kennedy School.
Videos
---
Related Speakers View all
---
Donald Trump

45th President of the United States; Businessman & T...

Howard Putnam

Former CEO of Southwest Airlines

Ram Charan

World-Renowned Business Advisor, Execution Expert & ...

Mitch Lowe

Co-founding Executive of Netflix & President of RedBox

Liz Wiseman

President of The Wiseman Group & Bestselling Author ...

Jeffrey Garten

Professor, Yale School of Management and Expert on G...

Dave Logan, PhD

Author of New York Times #1 Bestseller "Tribal Leade...

Seth Mattison

Co-Founder & Chief Movement Officer of Luminate Labs...

Chris Hughes

Co-founder, Facebook and Editor-in-Chief and Publish...

Sir Bob Geldof

Humanitarian, Entrepreneur, and Nobel Man of Peace

Jeff Taylor

Founder of Monster.com & Eons.com

Dr. Nido Qubein

Award-Winning Speaker and Author, President of High ...

Ray Kurzweil

Chairman of Kurzweil Technologies; Inventor; Futurist

Gary Hamel

Internationally Renowned Expert on Business Strategy...

Rowan Gibson

Co-Founder of Innovation Excellence & Best-Selling A...

Ryan Estis

Business Performance Expert & Agent of Change

Geoff Colvin

Editor & Columnist at Fortune Magazine; Author of "H...

Ian Bremmer

Political Scientist, Author, Entrepreneur, Lecturer

Kivi Bernhard

Expert in Critical Business Thinking & Strategy: Aut...

Dave Ridley

Operating Partner for People and Leadership at Riata...
More like Ronald