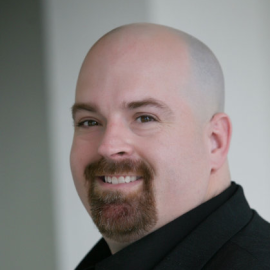 Ronald is a military veteran, serving 5 years in the U.S. Air Force where he was trained in Military Intelligence and Computer Security.
Mr. Skelton is also an industry veteran, working his way up from technical roles to top technical management for some of the largest internet businesses at the time.
An Entrepreneur at heart, Ronald has always found himself pulled to and working for, pre-IPO companies. After much consideration, he decided to leave a lucrative career in the technology world to pursue his true passion, helping small to medium businesses grow.
Among other college degrees, he holds a Masters of Business Administration in Marketing and is a Certified Coach of Jay Conrad Levinson's Guerrilla Marketing system.
As a passionate business owner driven to help others succeed in business, Ron coaches business owners in marketing and best business practices. He utilizes workshops, seminars, public speaking, group coaching and one-on-one coaching sessions to help his clientele succeed.
Ronald is one of the leading experts in Social media gaining at times 500-1000 targeted followers in a single day.
Ronald Skelton is a true believer in the Rotarian way of Service above Self. He's a member of the Tulsa Will Rogers Rotary club where he has served as Sargent of Arms for 2 of the 3 years he has been a Rotarian.
Ron is married to Sara and together they just had their first child, Caleb Paul Skelton, born on Dec 27.
For more information about Ronald or to learn when his next workshop starts you can visit RonaldSkelton.com (or just Google Ronald Skelton where 9 of 10 of the listing are his.