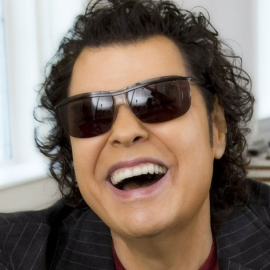 Born sightless and poor in the mountains of North Carolina, Ronnie Milsap was gifted with a soulful voice and talent for song that eventually led him to become one of the most original, best-loved, and enduring artists in country music history. It was Ray Charles who told him, "There is a lot of music in your heart, and if I were you, I'd follow what my heart tells me to do." And so he did.
A Nashville maverick, Milsap has seamlessly blended country blues and pop to create an astonishing 40 #1 hits including "Smoky Mountain Rain" and "It Was Almost Like a Song," garnering him multiple Grammy Awards and accolades over the course of his career.
An incredible storyteller, Milsap tells his story in a rich, full program, titled "I Wouldn't Have Missed It for the World," which intersperses songs with the defining moments of his life. Not only a career retrospective, "I Wouldn't Have Missed It for the World" offers insight into the soulful core of a tremendous talent, combining entertainment, music, and life stories to create a powerful and uplifting event.
By sharing his life in song, Milsap inspires others to follow their heart, whatever their abilities may be, and to find their place in the world. He has found his--on the stage, in song, in his spirit, and in his remarkable journey overcoming the harshest difficulties to become one of the most important voices of his genre.
Videos
---
Speech Topics
---
I Wouldn't Have Missed It for the World
Like great lives, great stories are made up of a series of defining moments. Legendary musician Ronnie Milsap weaves his personal experiences into a fascinating keynote, touching on his most defining moments, including playing keyboards with Elvis Presley and meeting Ray Charles, an event that ultimately changed his life. From his meteoric rise to stardom to his decades of experience in the music industry, Milsap, who has born blind, has come a long way—and he wouldn't have missed it for the world. This candid presentation includes Milsap performing some of his most popular songs.
Books
---