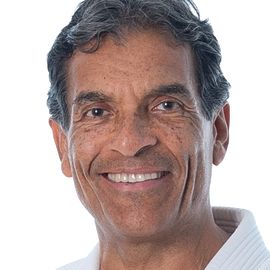 Rorion Gracie put on a kimono before he could walk. As the oldest son of Grand Master Helio Gracie, the creator of Brazilian/Gracie Jiu-Jitsu, Rorion was groomed from an early age on the nuances of a unique teaching methodology. 
In December 1969, Rorion, 17, traveled to the United States for a one month vacation. He was having a great time until his money ran out. At one time, he was so broke that he actually had to panhandle and sleep on newspapers in the streets. By the end of 1970, he made his way back to Brazil where he attended the Federal University of Rio de Janeiro and graduated with a Law Degree. 
In 1978, with a dream to make his family's self-defense style known worldwide, Rorion moved to Southern California. He put some mats down in his garage and invited every person he met for a free introductory jiu-jitsu lesson.  As his number of students and popularity grew, representatives of other styles of martial arts would show up to his garage to challenge him. 
After defeating hundreds of opponents in a 10 year span, Rorion realized that the best way to popularize Brazilian/Gracie Jiu-Jitsu would be through television. This inspired him to create the Ultimate Fighting Championship® (UFC) in 1993. Through this pay-per-view television spectacle, he was determined to show that, in a "no time limit - no rules" setting, Brazilian/Gracie Jiu-Jitsu was the most effective way to give someone a realistic chance of defense against a larger, more athletic opponent.
After recruiting seven of the world's most reputable martial artists to participate in a single-elimination tournament, he volunteered his younger brother Royce to represent the family style. Using only the basic techniques, Royce won three fights in the same night and became the first ever UFC champion.
In 1994, a small group of high-ranking military officials from the most elite unit in the U.S. Armed Forces, contacted Rorion and asked him to develop an objective hand-to-hand combat course based on the most effective techniques of Brazilian/Gracie Jiu-Jitsu. The course has since then, been adopted by every major federal law enforcement agency, and military organization, plus countless police departments in the US. 
Rorion's vision changed the world of martial arts forever.  The UFC became the fastest growing sport in the world, and in 2016 sold for $4 billion dollars. 
A classic example of the ""American Dream,"" this dramatic saga is the subject of the MSM/Sports Illustrated documentary ""UFC 1: Origins,"" soon to be released. 
Today, he lectures on entrepreneurship, motivation, and on the proven benefits of a healthy lifestyle, based on 65 years of research on food combination, which is available through his best seller book ""The Gracie Diet - The Secret of the Champions"". 
He still teaches jiu-jitsu.
Videos
---
Speech Topics
---
Inspirational/Motivational, Entrepreneurship, Health & Wellness