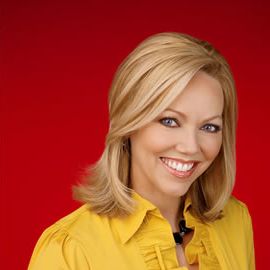 Rosemary Church is an anchor for CNN International's World Report and has more than 25 years of experience covering major global news events. She can be seen in the morning across Europe, Africa and the Middle East, and in the afternoon across Asia and Australia.
Based at the network's headquarters in Atlanta, Church has been with CNNI since 1998. In that time, she has anchored all the major world events that have unfolded across the globe, including the September 11th terrorist attacks against the United States; the wars in Afghanistan and Iraq; the capture of Saddam Hussein; the killing of Osama bin Laden; Japan's 2011 earthquake and tsunami; and the Arab Spring.
In 2012, Church anchored CNNI's coverage of the U.S., Egyptian and French elections, as well as the ongoing violence in Syria and instability in Egypt.
On March 11, 2011, news broke of an earthquake in Japan - and possible tsunami - just as Church was starting her show. She ended up anchoring four hours of breaking news coverage while tragedy unfolded across the northeastern coast of the country. Earlier that same year, Church also anchored breaking news of the Arab Spring including the protests in Tunisia; the eventual fall of Egypt's Hosni Mubarak; the overthrow of Libya's Moammar Gadhafi in August and his capture and killing on October 20. News of the death of Osama bin Laden happened on Church's watch in May 2011, and she also anchored CNNI's coverage of the death of North Korea's Kim Jong Il in December 2011.
Prior to joining CNN, Church was the Senior Anchor with Australia's first international satellite news service, Australia Television (ATV), also filing stories for ATV and the Australian Broadcasting Corporation's (ABC) Foreign Correspondent program, when she traveled to Asia.
She started at ABC TV in 1991 as a reporter and anchor for the main evening news bulletin in the state of Tasmania, where she also anchored the summer edition of ABC TV's World at Noon program. Before this, Church spent five years at Parliament House, Canberra, with the National Media Liaison Service, while also anchoring weekend news bulletins on Channel Ten's news service. In 1984, she worked as a media officer and speechwriter for a Member of Federal Parliament.
Church won the New York Festival's TV programming award for coverage of the Hong Kong Handover to China in 1997 (Silver).
Born in Belfast, Northern Ireland, Church lived in London until her family migrated to Australia when she was 8 years old. She has a Bachelor of Arts degree from the Australian National University in Canberra and has completed graduate studies in media and law at the University of Canberra.
Church is married with three young children.