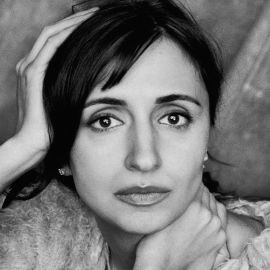 Commissioned by UNICEF, her most recent film, Armed and Innocent, on the subject of the involvement of underage children in wars around the world, was an official entry in the documentary category at several festivals, and a nominee for best short documentary at the Hollywood Film Festival.
Hakakian is the author of two collections of poetry in Persian, the first of which, For the Sake of Water, received honorable mention in the Oxford Encyclopedia of the Modern Islamic World and was nominated as the poetry book of the year by Iran News in 1993. Her poetry has consistently appeared in numerous anthologies around the world, including La Regle Du Jeu, the Pen Anthology of Contemporary Iranian Literature. She contributes to the Persian Literary Review and served as the poetry editor of Par Magazine. Her opinion columns, essays, and book reviews appear in English language publications, The Washington Post and the Wall Street Journal. She is also a contributor to the Weekend Edition of NPR's "All Things Considered."
Hakakian was the recipient of a MacDowell Fellowship and the 2003 Dewitt / Wallace Reader's Digest Fellowship in writing. She is a founding member of the Iran Human Rights Documentation Center, and a term member at the Council on Foreign Relations. She speaks on the subject of the Middle East and human rights and has appeared on CSPAN-Book TV, CNN International,CBS Early Show, and Now with Bill Moyers. Her memoir of growing up a Jewish teenager in post-revolutionary Iran, Journey from the Land of No, was Barnes & Noble's Pick of the Week, Ms. Magazine's Must Reads of the Summer, Publishers Weekly's Best Books of the Year, and Elle Magazine's Best Nonfiction Book of 2004. Journey from the Land of No has been translated into several languages and is available in Canada, Australia, New Zealand, Belgium, the Netherlands, and Spain. Born and raised in a Jewish family in Tehran, Hakakian came to the United States in May 1985 on political asylum.
Videos
---
Speech Topics
---
JOURNEY FROM THE LAND OF NO:
A Girldhood Caught in Revolutionary Iran
Global Anti-Semitism Rising: What About Iran?
The Fundamentals of an Iranian in Exile
Iran 101: An Insider's Guide to A Country in Turmoil