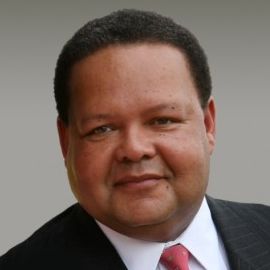 Dr. Rudy Crew believes that there is a solution to the challenges students, teachers, and administrators face every day in the classroom to ensure all students are given the highest caliber education. And, he should know.
As an innovative lifelong educator, he has maintained a career that began in the classroom as a teacher, graduated to the chancellorship of the nation's largest public school district, New York City, and led him to his former role as Superintendent of the Miami-Dade Public School system. Throughout his career, he has dedicated his talents and energies to ensuring a quality education and effective start for children of all backgrounds.
Dr. Crew lays out what each of us must demand from our government, our school systems, and our classrooms to create a new generation of Americans that are educated, able, and willing to function in the workplace, at home, and as citizens.
Calling for us to embrace the three "C's"– change, choices, and courage – he describes the essential attributes required to ensure that every student in every school learns every day and benefits from every dollar spent – a solution grounded in both the realities of today and the hope of the future.
Videos
---
Speech Topics
---
The Education Conversation We Must Have - Schooling, Globalization, & Urban America
For years now, we have been inching along using a myriad of strategies and theories by which to define and ultimately curb low performing schools across the country, particularly in poor and urban communities. Some have deeply informed the practice of teaching and learning, some have been a waste of time, effort and money. As NCLB is considered for reauthorization, questions must be raised as to how another cycle of testing for accountability will support classrooms teachers and their students to avoid falling further behind in the nation and in the world. Are there other ways to frame and respond to these issues in the next decade? And, what happens to these children and to us as a nation if we don't?
Only Connect: The Way to Save Our Schools
The global economy isn't coming. It's here. And America is failing to meet the challenges a flat world presents. Undereducated and under motivated, our workforce is increasingly unable to compete with the ambitions of countries such as China and India, putting our nation's continued prosperity at risk. Dr. Rudy Crew, former Superintendent of the Miami-Dade County Public School system and former chancellor of New York City schools, believes there is a solution, but we won't find in a boardroom; we'll find it in the classrooms of our local public schools.
Calling on America to do more than simply leave no child behind, Crew mandates that to thrive as a nation we need a national commitment to establishing standards of excellence and equity in all our public schools. He lays out what each of us must demand from our government, our school systems, our classrooms and our families in order to help our schools create a new generation of Americans able and willing to function in the workplace, at home, and as citizens of our nation.
With public schools as the anchors of a new community spirit, we can heal the divides of race, politics, and class, and recreate the shared sense of America that has bound this nation together.
Reaching for the Stars: Setting and Achieving Higher Standards for America's Youth
You'll Be Called On: How We Can Demand the Best From Our Schools
The Economics of Public Schooling
Books
---