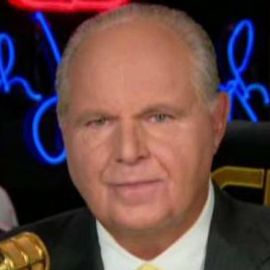 Rush Hudson Limbaugh III is an American radio personality, conservative political commentator, author and former television show host. He is best known as the host of his radio show The Rush Limbaugh Show, which has been in national syndication on AM and FM radio stations since 1988.
Limbaugh hosted a national television show from 1992 to 1996. He has written seven books; his first two, The Way Things Ought to Be (1992) and See, I Told You So (1993), made The New York Times Best Seller list. Limbaugh is among the highest-paid radio figures. In 2018, Forbes listed his earnings at $84.5 million. In December 2019, Talkers Magazine estimated that Limbaugh's show attracted a cumulative weekly audience of 15.5 million listeners to become the most-listened-to radio show in the United States.
Limbaugh has been one of the premiere voices of the conservative movement in the United States since the 1990s. He has been inducted into the National Radio Hall of Fame and the National Association of Broadcasters Hall of Fame. During the 2020 State of the Union Address, President Donald Trump awarded him the Presidential Medal of Freedom.
Limbaugh has expressed controversial viewpoints on race, LGBT matters, feminism, and sexual consent. Limbaugh rejects climate change and has supported U.S. military interventions in the Middle East.
Videos
---
Related Speakers View all
---
Michael Reagan

Eldest Son of President Ronald Reagan, Bestselling A...

Laura Ingraham

Political Commentator, Television Host & Journalist

Sean Hannity

New York Times Best-Selling Author; Host of "The Sea...

Mark Levin

Best-Selling Author, Nationally Syndicated Radio Hos...

Lawrence B. Jones III

Conservative Commentator and Editor-in-Chief, Campus...

Jason Mattera

Emmy-Nominated Journalist, Conservative Activist & A...

Bill O'Reilly

Host of "The O'Reilly Factor," Best-Selling Author &...

David Limbaugh

Attorney, Conservative Columnist & Author

Mike Huckabee

Politician, Former Governor of Arkansas & Host of TB...

Ben Stein

Political Economist, Commentator, Author & Actor

Morton Kondracke

Political Commentator & Columnist

Pat Buchanan

Editor, The American Conservative & Panelist on "The...

Fred Barnes

Political Commentator & Former Executive Editor of "...

David Remnick

Editor, The New Yorker

Howie Carr

Journalist, Author & Conservative Radio Talk-Show Host

Michael Steele

Conservative Political Commentator & Former Republic...

Charlie Rose

Anchor and Executive Editor

Norman Ornstein

Bestselling Author, Political Analyst & Resident Sch...

Grover Norquist

Founder & President of Americans for Tax Reform, Aut...

Michael Medved

Nationally Syndicated Radio Talk Show Host, Film Cri...
More like Rush